Argentina's hopes of reaching the 2010 finals in South Africa could be severely limited this weekend, should the results of the South American World Cup qualifiers go to form.
Diego Maradona's Argentina face Dunga's South American group leaders Brazil (27 points), who added the Confederations Cup in late June to their 2007 Copa America title.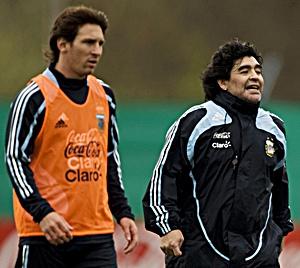 Second-placed Chile (26) host modest Venezuela (17), while third-placed Paraguay (24) are at home to Bolivia (12), whose few positive results have come in the high altitude of La Paz and even there they have been inconsistent.
They followed a 6-1 win over Argentina in April with a 1-0 upset by Venezuela in June.
Argentina have themselves been inconsistent since Maradona took over towards the end of 2008, and should they lose to Brazil in Rosario they are in danger of slipping outside the four automatic qualifying berths.
Fifth-placed Ecuador are on 20 points, two behind Argentina (22), and meet an inconsistent Colombia (17) in Medellin.
The fifth-placed team at the end of the marathon qualifying session, which has four rounds remaining, will have to go into a two-leg playoff with the fourth-placed team from the CONCACAF region for a place in South Africa.
Maradona's side were beaten 2-0 by Ecuador in their last qualifying match in June, though they did win their previous two World Cup qualifiers at home -- 1-0 against Colombia in June and 4-0 against Venezuela in March.
Both those sides, however, are significantly weaker than Brazil and Maradona has had to patch together an injury-depleted squad for the match, though captain Javier Mascherano was not overly concerned.
"The idea is not to get disorganised, take the game to them but calmly," Mascherano said. "In front we will have a very good team who are very good at counter-attacking."
While Chile still have to negotiate their match against Venezuela this weekend, their players are ambitiously looking ahead to try to win their first match in Brazil on Sept. 9.
"Against Paraguay, we faced a historically difficult match and I think it was one of our best in the qualifiers," Chile's midfielder Jorge Valdivia said in reference to their 2-0 victory in Asuncion in June.
"Brazil is much tougher but our idea is to win wherever (we play)," he said in Santiago.
Sixth-placed Uruguay (18) are targeting at least a fifth-place finish and a win away to bottom-placed Peru (seven) on Saturday would go some way towards that.
"Everything we've done these last three years, we did so thinking that Uruguay would go to the World Cup," coach Oscar Washington Tabarez told a news conference in Montevideo.
"None of the teams have qualified yet, there is still some cloth to cut."