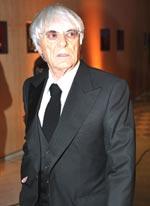 Being the world's most expensive sport, Formula One did face some recession blues, but sponsors are coming back and there is no financial crisis, F1 supremo Bernie Ecclestone declared on Wednesday.
"I don't know about India, but most of the world is in recession. Sponsorship was obviously a problem as a lot of big names were reconsidering, but it is better now and sponsors are coming back.
"There is no financial crisis now and there is no shortage of sponsors in Formula One," Ecclestone said.
At the same time, he expressed eagerness to explore more corporate entities in India, the second fastest growing economy in the world, saying the more the better.
He was responding to a query on whether F1 would be looking beyond Vijay Mallya for sponsoring teams.
"When I come to India in October I would meet with people and see what is the best way to move forward," he said.
The recession took its toll on F1 this season with Honda pulling out and BMW announcing that they would quit racing from next year.
Toyota is also uncertain to return to F1 circuit once the season ends.
In view of this, Formula One authorities had initially contemplated a cap on expenditure of all F1 teams, even though frontline teams like Ferrari and McLaren were against the move, but the proposal has temporarily been shelved.