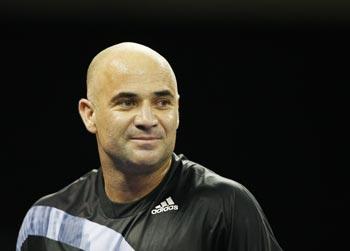 Eight-times Grand Slam winner Andre Agassi has admitted using the recreational drug crystal meth and lying to men's governing body the ATP to escape a ban.
In his book, serialised in The Times, the American candidly describes being introduced to the drug in 1997 by his assistant when his game was in freefall and he was having doubts about his impending marriage to actress Brooke Shields.
"Slim dumps a small pile of powder on the coffee table. He cuts it, snorts it. He cuts it again. I snort some. I ease back on the couch and consider the Rubicon I've just crossed," Agassi, now 39, was quoted as saying.
"There is a moment of regret, followed by vast sadness. Then comes a tidal wave of euphoria that sweeps away every negative thought in my head. I've never felt so alive, so hopeful -- and I've never felt such energy."
Agassi, who won Wimbledon in 1992 as a long-haired rebel before claiming the US Open in 1994 and the Australian Open in 1995, fell outside the top 100 in the world at the end of 1997 when he was hampered by a wrist injury.
A year later he began a new training regime that sparked an incredible turnaround in his career as he went on to complete a career Grand Slam by winning the French Open in 1999.
FAILED TEST
He ended 1999 as world number one after winning the US Open for a second time and went on to win three more Australian Open titles before retiring in 2006.
Agassi recounts the moment in 1997 when he received a phone call from a doctor working for the ATP who informed him that he had failed a drugs test for a Class 2 recreational drug.
"My name, my career, everything is now on the line. Whatever I've achieved, whatever I've worked for, might soon mean nothing. Days later I sit in a hard-backed chair, a legal pad in my lap, and write a letter to the ATP. It's filled with lies interwoven with bits of truth," Agassi said.
He described how he concocted a story that he had accidentally drunk a soda spiked with crystal meth belonging to his drug-user assistant, known as Slim.
"I feel ashamed, of course. I promise myself that this lie is the end of it," Agassi recalls saying.
No action was taken against Agassi at the time but his admission that he took drugs will cast a shadow over a player widely regarded as one of the greatest of all time.
Agassi said he was not worried about the impact of his confessions on his fans.
"I was worried for a moment, but not for long," he was quoted as saying. "I wore my heart on my sleeve and my emotions were always written on my face. I was actually excited about telling the world the whole story."
The ATP was not immediately available for comment