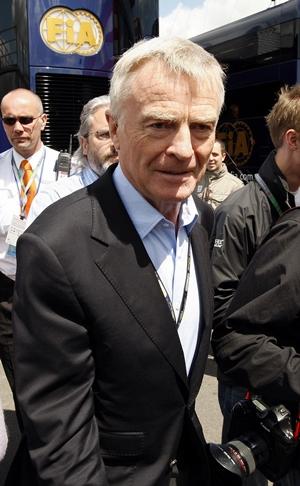 Max Mosley's long and controversial reign at the helm of Formula One's governing body will end on Friday when either ex-Ferrari boss Jean Todt or former world rally champion Ari Vatanen takes over.
Mosley, whose private life became very public last year when it emerged that he engaged in sado-masochistic sex sessions with prostitutes, has backed Todt to succeed him as president of the International Automobile Federation (FIA).
The position is the most powerful in world motorsport and Todt, who also has the support of Formula One supremo Bernie Ecclestone, must rank as the favourite when the election takes place in Paris.
However others have suggested that the outcome, with the Frenchman and his Finnish rival waging a high-profile and increasingly personal war of words over the past few months, might be too close to call.
Vatanen, a former European parliamentarian backed by Formula One manufacturers and Mosley's enemies, has stood on a platform of change and transparent governance to make a clean break from the Mosley era.
"In the last two years we have spent more time on the battleground than on common ground," the Finn said after announcing his candidacy.
"It is high time that the image of the FIA is improved. We must put our house in order."
Todt, whose record in rallying and in Formula One is outstanding, has made clear that he is not simply Mosley's man.
"I am ready to start from a white sheet of paper at all levels," the Frenchman told the autosport.com website last month. Both candidates will address the FIA General Assembly before the vote.
MOSLEY'S DEPARTURE
While the focus will be on the future, Friday is as much about Mosley's departure from a position he has held since 1993 through some of Formula One's most turbulent years.
"I will offer advice only if specifically asked to do. The time has now come for me to step back and enjoy a much quieter life," the 69-year-old, who retains an influential position in the FIA senate, said in a letter to members.
Son of the 1930s British fascist leader Oswald Mosley, the Oxford-educated lawyer has made waves ever since he arrived in Formula One more than 40 years ago as a founder of March.
He and Ecclestone, despite their very different backgrounds, have ruled the sport as friends, associates and powerbrokers since the early 1970s.
The FIA president has a history of carrot-and-stick tactics, suggesting something unpalatable before getting what he wanted in the first place, and he used them repeatedly in the last few years to push through cost-cutting measures.
During his time in office, the sport has taken huge strides on safety while also marching to the brink of self-destruction.
McLaren were fined a record $100 million for a 2007 spying controversy while Renault were this year given a suspended permanent ban for fixing the 2008 Singapore Grand Prix.
The deaths of triple champion Ayrton Senna and Austrian Roland Ratzenberger at Imola in 1994 also provided a defining moment in his presidency.
He may have been branded a paddock pariah after the sex scandal last year, but it is also to Mosley's lasting credit that no Formula One driver has died in any grand prix since 1994.