Mats Wilander has quit as Sweden's Davis Cup coach, the country's tennis federation said on Tuesday.
"I will not continue. It's private reasons behind the decision. I want to be home more, spend more time with the kids," Wilander told Swedish daily Aftonbladet.
"It was a difficult decision. I made up my mind three days ago."
General secretary Henrik Kallen told the federation's website (www.tennis.se) that he respected Wilander's decision to leave his post.
"We are grateful for these years and the success we've had," he said.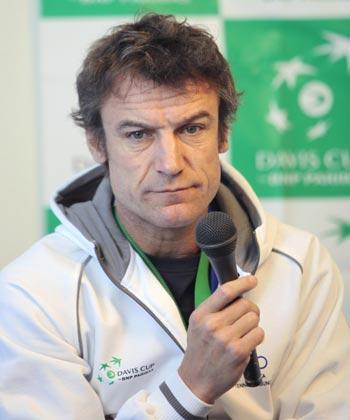 Wilander, a seven-times grand slam winner as a player, took over the Sweden team in 2003.
Two years ago, he steered Sweden to the Davis Cup semi-finals where they lost to eventual champions United States.
With no big players at his disposal except world number 10 Robin Soderling, Wilander has struggled to find a team capable of delivering regular wins at the Davis Cup.
This year, with Soderling absent because of injury, Sweden lost to Israel in the first round and as a consequence had to play the playoffs to make it into next year's World Group.
Sweden beat Romania in their playoff at home in Helsingborg last month.
Henin to make tournament comeback at Brisbane
Former world number one Justine Henin plays to make her return to tournament tennis at next year's Brisbane International as part of her preparations for the Australian Open.
The Belgian is planning to play two warm-up events later this year but has chosen Brisbane for her official comeback after recently deciding to come out of retirement.
"After a 15-month absence I am pleased to begin my second tennis career at the Brisbane International," the 27-year-old said in a statement on Wednesday.
Henin was given a wildcard into the Jan. 3-10 event because she no longer has a ranking, and will be joined by compatriot Kim Clijsters, who won this year's US Open after also making a comeback.
The pair are using the Brisbane tournament to fine tune their preparations for the first grand slam of the year in Melbourne from Jan. 18-31.