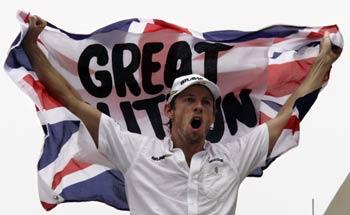 With a British flag proclaiming 'Great Button' draped over his shoulders, Jenson Button stood and repeated over and over again four of the sweetest-sounding words in the English language.
"I am the champion," the 29-year-old said, shouted and roared after making a lifelong dream come true in the Brazilian Grand Prix on Sunday with a fifth-place finish, which he said felt like a victory.
"I am the world champion and I'm not going to stop saying it.
"This race for me was the best race I've driven in my life, probably. I know it's because of the emotion involved with it but also because I knew I had to make it happen," said an ecstatic Button.
A day after the disappointment of qualifying 14th in a rain-delayed qualifying, Button was reduced to tears of joy and utter relief at the circuit where he scored his very first point as a 20-year-old.
He bawled "We Are The Champions" over the team radio on his slowing down lap, leaped from the car after parking up and sprinted to the pits to hug his father John, sobbing like a child, and embrace mechanics.
"I couldn't get him off me," said Button senior, clutching a champagne flute and gently swaying like a man in dreamland with a look of disbelief across his craggy features.
"He was like a limpet, crying his eyes out. He was just saying 'I am world champion ' — well, screaming it — non stop."
SLEEPLESS NIGHTS
The sleepless nights and inner torment, with critics accusing him of allowing the crown to slip through his fingers while others questioned whether he would be a worthy champion, were swept away.
"It's more than relief. You don't win the world championship and feel relief," said the Briton, who less than a year ago had wondered whether he had a future in Formula One after Brawn's predecessors Honda pulled out.
"This is the end of the fairytale," he said.
"All of the bad memories and the good memories go through your mind, not just from this year but from previous years in the sport.
"The last few races were pretty stressful for me.
"Also I read too many papers and magazines, so there were some negative comments. There's been a lot of good stuff written about us this year as well and so there should be. This team has done staggeringly well.
"I don't think there has been a season like it in Formula One. So it's great to sit here as world champion and I personally think I thoroughly deserve it. I am it. I am a world champion. I'm going to keep saying that all night."