Jenson Button will sit down to discuss a new contract with his Brawn team just as soon as he has got rid of his hangover from winning the Formula One championship.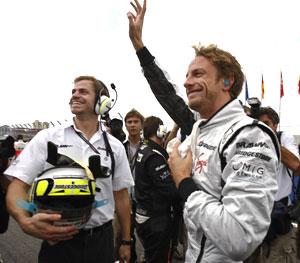 The 29-year-old Briton took a hefty pay cut to stay with Brawn this season after the team emerged from the ashes of departed Honda with far more limited resources than the big-spending Japanese.
He is out of contract at the end of the year and wants to stay. However, he expects also to be rewarded for his efforts and to have his salary restored to something more appropriate to a world champion.
A figure of around 8 million pounds a year has been bandied about in the media, although driver salaries are coming down across the board as teams cut costs and tighten their belts.
"I want to be here next year and I want to be with a team that can challenge for victories like this season and I think Brawn can do that," he said after clinching the title with a race to spare in Sunday's Brazilian Grand Prix.
"These guys are not one hit wonders," added the Briton, who was due to fly back to Britain by private jet on Monday after celebrating his success.
"We have some sensationally talented people in our team. It might not be big like some other teams but that will be a benefit to us next season as the teams have to get smaller.
"We are in a great position. We have worked on this year's car as much as we possibly could but we have also worked on next year's car. This isn't it for Brawn GP for sure," said the Englishman.
"But I haven't talked to the team seriously about next year as we wanted to get this out of the way...I will sit down and discuss it when I have got over my hangover in the morning," he said with a smile.
Brawn chief executive Nick Fry said Button's enthusiasm for the team was reciprocated and he was sure a deal could be reached.
"I hope so. He wants to be with us and we'd like him to stay with us so that's a good starting point," he told reporters at Interlagos.
"It's a bridge that can be crossed. The starting point is that both of us want to work with each other and if you start with that position then usually compromises can be found."
The only downside, he said with a wry grin, was that the title probably made Button even more expensive.
Fry said the team, who also clinched the constructors' title on Sunday, were in good shape financially after starting the season with barely a sponsor in sight.
"We've been quite successful over the last few months and there are a number of people who are either signed with the team or are effectively competing with each other to be part of the team so I've got no worries over that," he said.