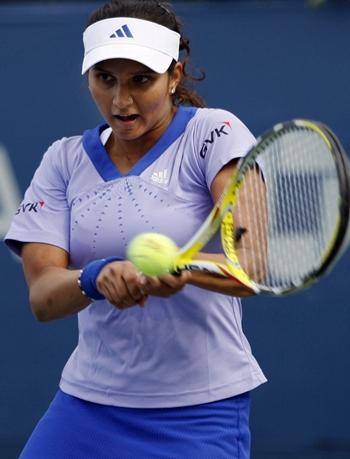 Sania Mirza is in the semi-finals of the Japan Open. The Indian tennis ace made the grade after France's Marion Bartoli conceded their quarter-final when trailing 4-6, 0-2 because of a right shoulder injury, in Osaka on Friday.
"I'm pleased that after two weeks of not playing my best, I'm finishing on a high and have made the semi-finals," said Sania after the victory.
"I'm playing a good friend next," she added.
Sania meets Italy's Francesca Schiavone in the semi-finals.
The fourth seeded Schiavone made the grade after seventh seed Melinda Czink of Hungary conceded a walk-over because of a right foot injury in another quarter-final.
Schiavone and Sania met twice before and the Italian emerged victorious on both occasions.
Sania also discussed her recent engagement after the match.
"It's great when someone loves you for who you are and stands by you whether you win or lose a tennis match. It's good to have that support. We travel a lot and often find ourselves alone. I can always pick up the phone and know he'll be there," she said.
In other quarter-finals, top seed Caroline Wozniacki of Denmark had a tough time before getting the better of sixth seed Aleksandra Wozniak Of Canada 6-2, 6-7(1), 6-2, while third seed Samantha Stosur of Australia had things her way while getting the better of Jill Craybas of the United States 6-1, 6-3.