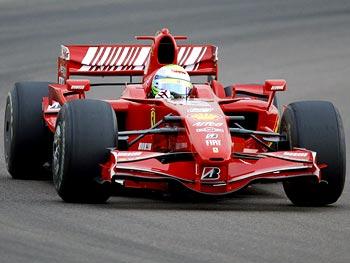 Ferrari's Brazilian driver Felipe Massa said he felt like his old self when he got back behind the wheel of a Formula One car on Monday for the first time since his life-threatening accident at the Hungarian Grand Prix.
"It went very well. It seems that what happened in July hasn't changed anything," he told reporters after driving the 2007 Ferrari race car in a rain-hit session at the Fiorano circuit near the Italian team's Maranello headquarters.
"I didn't manage to do many laps because of the rain but everything we've done up to now has been normal like before. It's positive for me and for the team to see I'm the same as before," he added.
Last week Massa, who fractured his skull after being hit by bouncing debris during qualifying in Hungary, said he had slight hopes of racing in the season-ending Abu Dhabi grand prix on November 1.
But the team made it clear before Monday's test that he would not make his competitive return until the start of next season and the driver has accepted this.
"I didn't have any vision problems and today I would be ready to do, not one race, but two straight after each other," he said.
"Naturally there is a period of time that must elapse first for precautionary reasons. But, having been in the car, I can say that I'm the same as before the accident," he added.
He said he now keen to start work on next year's race car so that he and his soon-to-be team mate Fernando Alonso will have the raw materials to be able to bounce back from a difficult season.
"We can start preparing for next year, which won't be an easy year because this one has been hard, and work to have a good car and fight for the championship," he said.