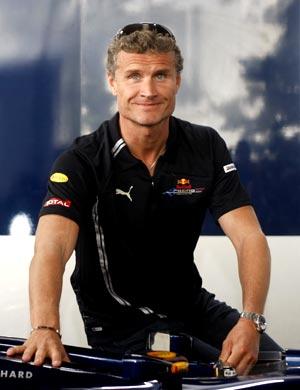 Former Formula One ace David Coulthard wants to go flat out when he drives Red Bull car on the Bandra-Worli sea link on Sunday, but is constrained by the speed limit the authorities have fixed.
"Apparently there is a speed-limit, about 50 or 100 km. But I don't intend to drive in India again. So instead I plan to go flat out," the British driver quipped when asked about the maximum speed one can expect from him.
"Hopefully the noise of the engine will echo across the water," he said.
Coulthard on Firday, was seen at the Feroz Shah Kotla ground, enjoying a cricket match between Delhi Daredevils and Victoria Bushrangers.  
"I saw a cricket match, a Champions League Twenty20 match in Delhi last night. Got a feel of the grass. Got a feel of cricket which you people love so much," he said.
DC, as he's affectionately known, predicted that despite Red Bull driver Sebastian Vettel being mathematically in contention to win this year's Driver's Championship, Brawn GP's Jensen Button was the favourite.
"It would be fantastic if Vettel wins, it is possible. It happened with Kimi (Raikkonen) two years ago. But all Button has to do is to finish among the points in the next two races," he said.
The 38-year-old said he did not regret his decision to retire from the Formula One last year, after 14 active years on the F1 circuit.
"The decision to retire was an easy thing to make. The focus was onto develop the team and help it go further. It can't go on forever," he said, adding that he had no intention to comeback.
When asked about the about Formula One legend Michael Schumacher's speculated return, Coulthard said Schumacher had the capability to do so.
"He (Schumacher) is young enough and good enough though it would have been difficult for him to win (with Ferrari's current form). But he would be quick and exciting to watch," he said.