Serena Williams made a stuttering start to her bid to topple Dinara Safina from the world number one spot with an error-strewn 7-5, 6-4 win over Estonian Kaia Kanepi in the first round of the China Open on Sunday.
Safina, who must at least match Williams's progress over the next week in Beijing to retain the number one ranking, was equally unconvincing in her 6-4, 6-4 victory over Italian Roberta Vinci earlier in the day.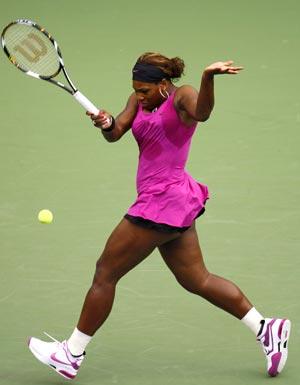 Serena missed last week's Pan Pacific Open with knee and toe injuries and looked far from her best in her first singles match.
"I'm definitely not at 100 per cent but I'm just fighting and trying to do the best I can," Serena said.
"It wasn't easy but I felt like I was hitting a clean ball. She's a really good player, she always plays tough," she added.
The Australian Open and Wimbledon champion made nine unforced errors in the 83-minute encounter against the big-hitting Kanepi, who broke the second-seeded American three times.
Williams, though, always looked to have the edge on the big points and reached the second round of the $6.6-million event, keeping alive her hopes of reclaiming the top ranking, with a fifth break of serve when Kanepi went long.
"I would love to be number one. But I also want to pay the price to be number one. It'll come eventually. And if not, I'll just keep trying," added 11-times grand slam winner.
EARLY BREAKS
Top seed Safina's victory over 59th-ranked Vinci was certainly an improvement on her first-round loss to Taiwanese qualifier Chang Kai-chen at the Pan Pacific Open last week but was by no means commanding.
Broken early in both sets, Safina immediately evened up matters with breaks of her own but was then forced to scrap it out with the dogged Italian to claim victory.
"I'm satisfied with the match but there is still room to improve my game," said the 23-year-old Russian.
"I'm not thinking about (the ranking). I just think about the game. I think I am the 16th, 17th in the world to reach number one so it doesn't matter when you achieve it."
Earlier on centre court, sixth-seeded Russian Svetlana Kuznetsova damaged hopes of a first local champion with a 7-6, 7-5 defeat of China's number two Zheng Jie.
The French Open champion, three times a finalist and winner of the 2006 title here, battled back after Zheng grabbed service breaks early in both sets to secure a place in the second round.
Her compatriot Vera Zvonareva, seeded seventh, also progressed 6-2, 6-2 against Romania's Sorana Cirstea, while ninth seed Victoria Azarenka beat her fellow Belarussian Olga Govortsova 6-1, 6-3.