Florida troopers who sought to interview golf great Tiger Woods and his wife on Saturday about how his SUV struck a fire hydrant and a neighbour's tree were told by his agent to come back the following day.
Two Florida Highway Patrol vehicles had arrived at Woods' $2.4 million mansion outside Orlando, but the patrol later issued a statement that the interview was postponed to Sunday.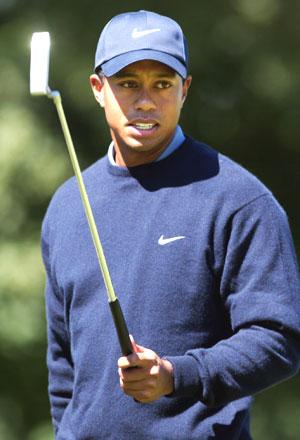 "The Florida Highway Patrol has received information that Tiger Woods and his wife were not available to be interviewed ... as we had previously scheduled," Kim Montes, a sergeant with the FHP's Orlando division, said in a statement.
"This announcement came from his (Woods') agent. Troopers were asked to return tomorrow (Sunday). This is still an ongoing crash investigation."
Woods, 33, the greatest golfer of his generation and one of the world's most recognisable figures, hit a fire hydrant and tree as he pulled his Cadillac Escalade out of the driveway of his house at around 2:25 a.m. EST (0725 GMT) on Friday, the FHP said. He was taken to the hospital with some injuries, and released.
Montes said no more information would be given until the "traffic crash" investigation was completed, but that 911 tapes from the incident would be released after being reviewed by the investigating trooper. "There is no specific timeline on when that will occur," she added.
More than two dozen media and nine television trucks were camped outside the guarded gates of the exclusive Isleworth community when the FHP entered in their bid to interview Woods.
HOSPITAL TREATMENT
Woods was treated at a nearby hospital early on Friday with what police described as "serious injuries," but the golfer's management team said the accident was minor and Woods had been released from the hospital in good condition after being treated.
When police arrived at Woods' home shortly after the accident, the golfer was bleeding from the mouth and was "in and out of it for several minutes," Windermere Police Chief Daniel Saylor told CNN on Friday.
He "was on the ground, semi-unconscious and had lacerations to the upper and lower lips," Saylor said, adding that Woods' Swedish wife, Elin Nordegren, used a golf club to smash a window of his SUV to get him out.
Nordegren "explained to my officers that the doors were locked and she could not gain entry" into the crashed vehicle, so she "used a golf club" to smash a window, he said.
Woods, who has had two young children with Nordegren since they married in 2004, was the only passenger in the vehicle, Saylor said.
The accident was not alcohol-related, the FHP said. "The crash remains under investigation and charges are pending," it said.
Woods' office, in a statement published on his website, said: "He was admitted, treated and released today in good condition. We appreciate very much everyone's thoughts and well wishes."
Woods is scheduled to host his annual Chevron World Challenge tournament in Thousand Oaks, California, next week. It starts on Thursday and Woods was expected to hold a news conference on Tuesday.