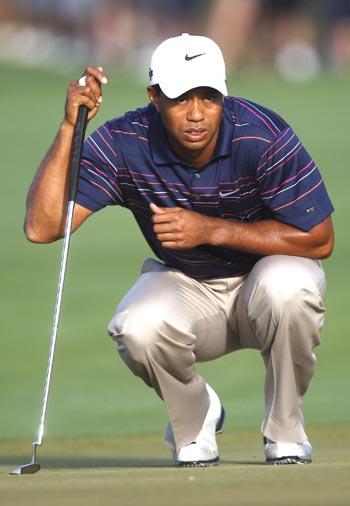 Tiger Woods, the world's best golfer and a leading force in sports marketing, was hurt in a car accident in Florida on Friday but was released from a hospital in good condition after treatment.
A local police chief said Woods' wife used a golf club to smash a window of his SUV to get him out.
Woods, 33, who made a triumphant return to professional golf this year after missing much of last season following reconstructive knee surgery, suffered "serious" injuries, the Florida Highway Patrol said. But the golfer's office called the accident "minor."
The FHP said in a statement that Woods was hurt when his Cadillac Escalade hit a fire hydrant and then a tree as he pulled out of the driveway of his house in Windermere, Florida, near Orlando, around 2:25 a.m. EST (0725 GMT).
Windermere Police Chief Daniel Saylor told CNN when his officers arrived at the scene Woods "was on the ground, semi-unconscious and had lacerations to the upper and lower lips."
Woods was bleeding from the mouth and was "in and out of it for several minutes," Saylor said.
He said Woods' wife, Elin Nordegren, "explained to my officers that the doors were locked and she could not gain entry" into the crashed vehicle, so she "used a golf club" to smash a window. Woods was the only passenger in the vehicle, Saylor said.
The accident was not alcohol-related, the FHP said. "The crash remains under investigation and charges are pending," it said.
Woods' office, in a statement published on his website, said: "He was admitted, treated and released today in good condition. We appreciate very much everyone's thoughts and well wishes."
The Orlando Sentinel newspaper, citing the highway patrol, reported that the airbags in the Cadillac did not deploy, an indication that the car was travelling under 33 mph (53 kph).
"Basically it was facial lacerations, and as I'm understanding it, nothing that serious," Windermere Mayor Gary Bruhn told CNN.