Andy Murray rated his serve as 'pants' on Tuesday but was still optimistic about reaching the semi-finals of the ATP World Tour Finals despite being out-hit and out-foxed by Roger Federer.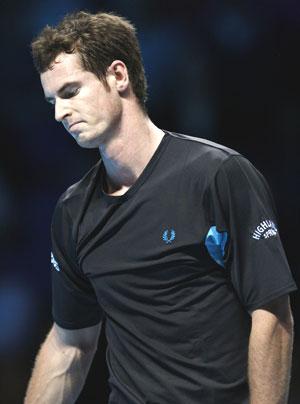 The British No 1 had high hopes of notching up his second successive round-robin victory at the season ending tournament as he took a 6-3 head-to-head record against Federer into the Group A match.
But after almost two hours of action, it was not hometown favourite Murray who was holding aloft his arms under the spotlight to lap up the applause of 17,500 hollering fans.
"It was probably the most double faults I served in a match maybe this year in the first set... I served pants," said the 22-year-old Murray following his 3-6, 6-3, 6-1 defeat to Federer.
"I made more mistakes than normal. I just didn't play well," added the Briton, whose misfiring serve produced eight double faults. "I served so poorly that anyone would have looked good against me tonight."
Murray, who was out for almost two months with a wrist injury following his run to the US Open fourth round in September, admitted he had yet to regain full fitness but was relying on the Finals' round-robin format to make sure he extended his stay at the O2 Arena to this weekend.
"The one thing that's been a problem for me since I came back was I played wellish first set of the matches. Then when the adrenaline wears off, there's not quite the same spark in the legs that there was at the start of the year," said Murray, who has won a Tour-leading six titles in 2009.
"The only important thing is to try and qualify from the group. Whether you win one match, three matches, two matches. Last year I won three (round robin matches but) lost in the semis," added the World No 4, who will face-off with Fernando Verdasco on Thursday in his final group match.
"This year I could potentially lose two matches and win the tournament."