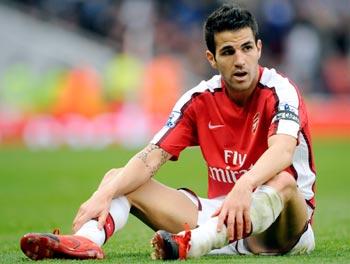 Gunners skipper Cesc Fabregas has no doubt that Arsenal can beat Chelsea and roar right back into the title race.
Fabregas skipper said that after their 1-0 defeat at Sunderland on Saturday, Arsenal face Standard Liege tonight in the Champions League, but are eyeing Sunday's London derby at the Emirates.
A win will catapult Arsene Wenger's men straight back into contention - but a loss will leave them 11 points behind leaders Chelsea.
"The Chelsea game is vital. We have to win and are ready for it. They're a great team, one of best in Europe. They have played together a long time, you can see it on the pitch.
"I respect them, they're great players but I know what we can do. If we play well and are at our best, we can beat them and, with a game in hand, we can still be there," The Sun quoted Fabregas, as saying.