Bayern Munich coach Louis van Gaal came under stinging attack from club bosses on Thursday ahead of their clash against Bundesliga leaders Bayer Leverkusen.
Eighth-placed Bayern are desperate for points and could close in on the top spots with a win on the first Bundesliga weekend since the suicide of Hanover 96 and Germany keeper Robert Enke.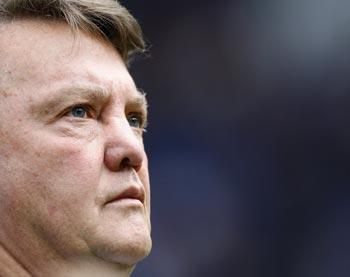 Dutchman van Gaal has so far had an unspectacular first season in charge and Bayern Munich manager Uli Hoeness said he could not say whether he would still be there after the end of the season.
"The board and van Gaal deal with things in a critical and honest manner. I cannot keep saying things are great when we are in eighth place," said Hoeness in a joint interview with club president Franz Beckenbauer in Bild newspaper.
Bayern are on 20 points after 12 matches with Leverkusen top on 26.
Hoeness said a row between van Gaal and Italian striker Luca Toni, over a starting spot, had yet to subside and he could not say which of the two would remain in Munich at the end of the season.
"This is hard to say. At the moment there is a certain difficulty between coach and player. We now have five league matches and two Champions League games (until the winter break). We will have to wait for those games," he said.
Bayern will be without injured playmaker Franck Ribery on Sunday while Dutchman Arjen Robben is doubtful.
Leverkusen on the other hand are enjoying their unbeaten run this season with coach Jupp Heynckes, who briefly took over Bayern late last season after Juergen Klinsmann was sacked, relishing a return to Munich.
"I have friends there and it will be a joyous occasion to return. I am not, however, going to Munich to embrace people but to win the match," said Heynckes.
Second-placed Werder Bremen, on 23 points, travel to promoted Freiburg while Hamburg SV, also on 23, take on struggling VfL Bochum.
Schalke 04 host Hanover 96 on Saturday in what is expected to be an emotional affair with Enke's death still fresh in the minds of his teammates.