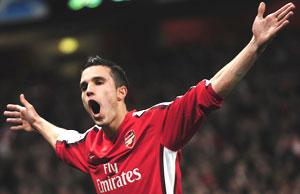 Dutch and Arsenal striker Robin van Persie will be out of action for up to six weeks after partially rupturing a right ankle ligament on Saturday.
Van Persie was carried off in the 15th minute of a friendly between the Netherlands and Italy after a tackle by Italy defender Giorgio Chiellini.
"The prognosis is that I will be out for four to six weeks," van Persie told the Dutch television station NOS.
Speculation is also rife that he could now be out for the remaining part of the 2009-10 season.
Van Persie, 26, has scored eight goals in his last 11 matches for the north London club who are second to Chelsea in the Premier League. Arsenal host Chelsea at the Emirates stadium on November 29.