Argentina coach Diego Maradona feels mistreated and persecuted but says he is focussing on his job, family and the support of "ordinary people."
Maradona, who will appear before a FIFA disciplinary committee in Zurich on Sunday over his foul-mouthed rant after last month's World Cup qualifier in Uruguay, told Spain's Marca newspaper that many people were out to get him.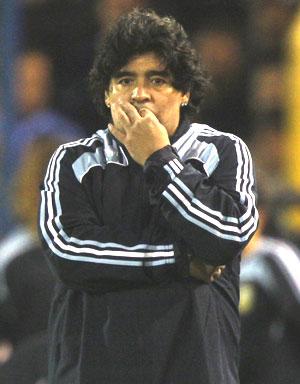 "Much worse things have been said and there are people who do terrible things in soccer...," the paper quoted Maradona as saying in an interview conducted in Madrid on Wednesday.
"I am taking refuge in my team, my family, my daughters and in ordinary people from the street," added the 49-year-old.
"Lest nobody forget, people in Argentina, from the street, are showing me a lot of affection, they greet me and love me just like always.
"And I am focussing on that, on the people without microphones, not on what the media says."
Maradona could be sidelined from matches in next year's finals in South Africa if FIFA decide to hand down a stadium ban for his outburst at the end of the 1-0 win that guaranteed Argentina a place at the tournament.
Maradona rounded on his critics immediately after the final whistle in Montevideo, unleashing a stream of invective when interviewed on the touchline and another outburst in a post-match media conference broadcast live on several television networks.
FIFA President Sepp Blatter announced two days later that disciplinary proceedings would be opened.
"If anyone wants to take it badly, then let them take it badly," Maradona told Marca.
"I said what I said and that's where we stand. Sunday I will go and say what I have to say to FIFA and that'll be that."
The volatile 1986 World Cup winner had been heavily criticised for defeats to Bolivia, Ecuador, Brazil and Paraguay that took Argentina to the brink of failing to reach the World Cup finals for the first time since 1970.
The Argentina Football Federation has sent a report to FIFA, saying: "Maradona was acting in a state of violent emotion over arguments with journalists in the days before the match."
Maradona compared his situation with that of Mexico coach Javier Aguirre, who was banned for three matches by regional soccer body CONCACAF in July after clashing with Panama midfielder Ricardo Phillips during a Gold Cup group match.
"I say, as a joke, that if I had done that flying kick that Aguirre did against Panama they would sentence me to life imprisonment," he said.