Australian tennis great John Newcombe believes that former US tennis legend Andre Agassi is copping too much criticism for revealing that he lied about taking drugs during his playing career, and says that some support needs to given.
"Just a little show of support because there are a lot of people criticising him ... and I'm not sure they have got the facts right," the Sydney Morning Herald quoted the former World No 1, as saying.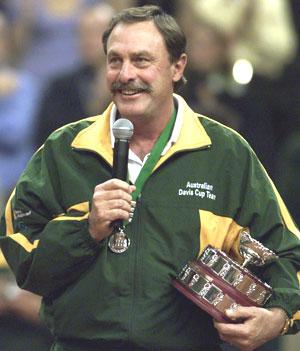 He has intently watched the fall-out from Agassi's stunning revelations, contained in his new autobiography Open.
The American confesses to using banned drug crystal meth in 1997, failing a doping test and then lying to the men's tennis tour and avoiding punishment.
He also reveals losing on purpose in an Australian Open semi-final against Michael Chang.
The confessions have unleashed a torrent of criticism, much of it from other tennis players.
Most recently, Russian Marat Safin claimed Agassi ought to "give his titles, his money and his Grand Slam titles" back to the ATP.
But Newcombe believes the players have it wrong.
"That's just stupid," he said of Safin's comments. "I think that was a bit of Marat tongue-in-cheek."
Newcombe said it was wrong for the tennis community to take offence at Agassi's behaviour, particularly his recreational drug use, as he had not cheated the game.
"The weaknesses revealed are not anti-tennis, they are human frailties, the story of living with that sort of pressure," he said.
"I'm 100 per cent against drugs but people who (become depressed) do some desperate things ... I've got complete sympathy. I didn't understand when some of the top players and former top players came out and criticised him (for taking crystal meth). It was not performance enhancing, in fact it was the opposite," Newcombe added.
"From my point of view (it doesn't change the respect I have for him), not one iota. I think he's been very brave to write what he's written. He obviously doesn't need the money," he said.