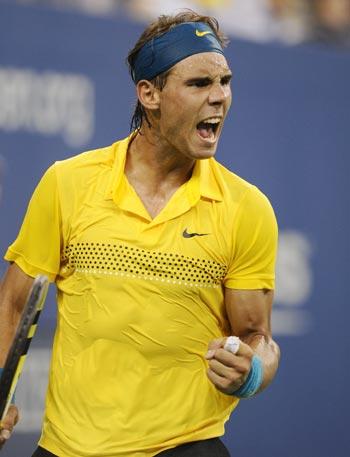 World number two Rafael Nadal said on Tuesday tennis is free of doping and repeated his view that the testing procedures are too tough.
"I am the first who wants a clean sport, more than anyone, believe me, but the way it (controls) are being done is, in my opinion, not right," the Spaniard told reporters at the Paris Masters.
Nadal, who had previously accused controllers of "harassing" the players, said he has a problem with players having to inform anti-doping authorities of their whereabouts on a daily basis.
"Sure, I would love to have a few changes," he said. "I think that's too much to have to say every day of your life where you are".
The WTA, the women's governing body, said it would like to see the World Anti-Doping Agency (WADA) revise its 'whereabouts' rule to give players more flexibility when they are competing.
Belgian players Yanina Wickmayer and Xavier Malisse were both handed one-year suspensions last week for failing to notify their national doping agency where they could be reached, under a ruling the WTA believes is a little too stringent.
The debate about doping in tennis was also stirred by Andre Agassi's recent admission that he had lied about using drugs.
In his autobiography "Open", the American revealed he had used and tested positive for crystal meth in 1997 but escaped punishment by lying to the investigators.
Fellow former world number one Marat Safin reacted by saying Agassi could clear his conscience by handing back the millions of dollars he made in prize money.
Safin suggested Agassi might also want to consider forfeiting all the titles he won during his long and celebrated career if he is serious about coming clean.
Nadal said, however, that he is convinced doping is not a problem in his sport.
"I'm always going to be with the players and I will always defend them," he said. "I have confidence in my colleagues. I believe they are clean and if the (testing) results don't tell me something else, I will defend my friends."