A row has broken out between Real Madrid and the Portuguese Football Federation over whether injured forward Cristiano Ronaldo should be called up for the two-legged World Cup playoff against Bosnia.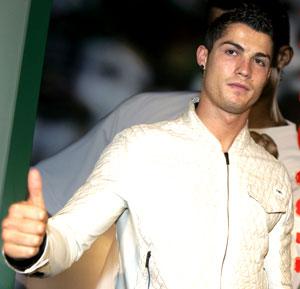 The first leg is in Lisbon on November 14 and the second in Zenica four days later and federation chief Gilberto Madail said on Thursday that Ronaldo wanted to play and would be joining up with the squad.
Real have said their world record signing needs two more weeks of treatment on his ankle and director general Jorge Valdano said on Friday Ronaldo would not be going.
"The doctors and common sense prevent Cristiano Ronaldo being called up by Portugal," he told Spanish radio.
Real coach Manuel Pellegrini said he understood Portugal's desire to call up the forward but added that in his opinion both Ronaldo and the federation knew that he would not be able to play.
"If he were able to we would have already used him," he told a news conference on Friday. "Understandably the player is worried. I am sorry for him and for Portugal."
Ronaldo was hurt in a Champions League match against Olympique Marseille on September 30 and has not played since aggravating the problem in Portugal's 3-0 win over Hungary 10 days later.
He was due to return to action around now but Real said on Thursday tests conducted by a specialist in Amsterdam who treated the same ankle last year had confirmed the diagnosis of the club's medical staff.
Ronaldo said on his way back from the Netherlands on Thursday that the ankle was getting better and that he hoped to be fit for the Bosnia playoff.
"We have to wait and see and take things a step at a time but it seems to be improving," he was quoted as saying in Friday's edition of sports daily Marca.