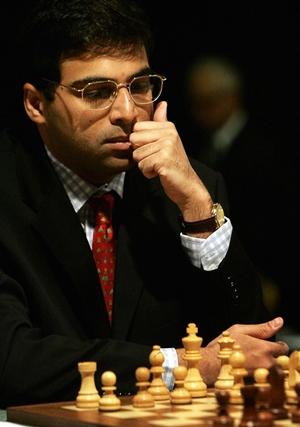 World champion Viswanathan Anand tamed former World champion Anatoly Karpov of Russia in successive games to win the rapid four-game chess series 3.5-0.5 in Ajaccio, France.
The Indian ace, who led the series 1.5-0.5 after winning the first game and drawing the second at Bastia, beat Karpov in the remaining games to ensure a spectacular victory.
It was a Queen's gambit declined by Karpov in the first game and Anand got an opening advantage after the Russian did not place his queen properly.
Karpov's position became passive and he was saddled with the task of just defending with little counter play at the end of the match that lasted 30 moves.
"His Queen on 'c5' was in trouble as I had ways to threaten it. After (gaining the advantage) white is better and pressing, he slowly ran out of time trying to defend," Anand said after the first game.
In the last game, Anand was in no mood to relent. Playing the black of a Nimzo Indian defense, he faced the Capablanca variation and gained early lead in development.
As the game progressed, Karpov missed the thread of the position completely amid complexities and had to pay heavy dividends as Anand's forces simply cruised into his territory.
Karpov resigned after 32 moves.
"I tried to play aggressively as black was ahead in development. It is just too complicated to give an exact opinion," Anand said after his series victory.
Anand now moves to Moscow to take part in the Tal Memorial chess tournament, commencing on November 5. It is arguably the toughest event of the year.
The field for the championship includes Vladimir Kramnik of Russia, Magnus Carlsen of Norway and Levon Aronian of Armenia, among others.