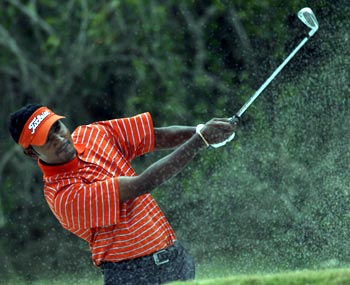 Just another golfer in his rookie season till some time ago, caddie-turned-pro C Muniyappa is finding it hard to believe that he will rub shoulders with greats like Tiger Woods and Phil Mickelson in the WGC-HSBC Champions starting in Shanghai on Thursday.
The 32-year-old Indian Open champion will join illustrious compatriots Jeev Milkha Singh and Jyoti Randhawa and Gaganjeet Bhullar at the historic first staging of a World Golf Championship (WGC) event in Asia.
Muniyappa earned his spot in the $seven million showpiece through his sixth place position on the Order of Merit at the cut-off point for qualifying, thanks to the career breakthrough victory in the Indian Open last month.
"My dream has always been to play with Tiger Woods. I can't imagine that I'm going to be in the same event with him," Muniyappa said.
"Last year, I was watching the big events on TV and I saw Jeev winning in Singapore. I asked myself when will I have the chance to play in such big events and I worked really hard. Now, I'm here," he added.
He is among 11 Asian Tour members who will tee off at the Sheshan International Golf Club on Thursday.
For a man who caddied for one rupee during his childhood, Muniyappa has had the opportunity to shoot for a staggering $13 million over the past three weeks on Tour.
"I'm going to try to play my best golf. In Singapore last week, I didn't play well as I didn't have a visa ready for China and I was worried about that. But it was a good experience competing on a tough course. I feel lucky to be here," said the Bangalorean.
Muniyappa entered his first Asian Tour Qualifying School this year after a first domestic victory last year following more than 10 years in the play-for-pay ranks.
Meanwhile, Bhullar, a talented 21-year-old who won the Indonesia President Invitational in July, said he would try and emulate Jeev and Randhawa.
"Four Indians in a WGC event, it's the first time in our history. We are producing so many international players and it's a great sign for Indian golf," he said.
"It's all thanks to Jeev, Jyoti and Arjun (Atwal) who have played well over the years and given the rest of us the inspiration to emulate them," said Bhullar.
"It feels good to be in a WGC event. The last two years, I've worked really hard and I want to work harder to get into contention at the big events."
The other Asian Tour stars in the field include Thailand's Thongchai Jaidee, Chapchai Nirat and Prayad Marksaeng, Anthony Kang of the United States, Japan's Daisuke Maruyama, Singapore Lam Chih Bing and Chinese Taipei's Lin Wen-tang.
Korea's Yang Yong-eun, Asia's first Major champion, will also challenge for the title which he won in 2006.