Thorkildsen eyes javelin world record
May 7, 2009 17:48 IST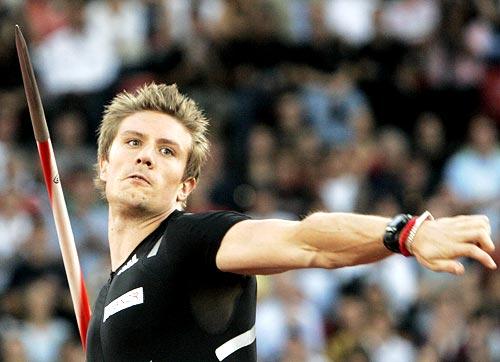 Andreas Thorkildsen has already entered the record books by successfully defending his javelin gold at the Beijing Olympics. Still, he is not satisfied.
Next on the Norwegian athlete's agenda is the World record of Jan Zelezny, who hurled the javelin 98.48 metres in 1996.
His inspiration is the world's fastest man, Usain Bolt, who astonished the world by winning the 100-200m sprint double in World record timings at Beijing.
"You never know what can happen. Nobody thought that Usain Bolt would win. Nobody thought that Michael Johnson's 200 metres World record would be taken. Right now, nobody might be around but you will not know who will come up soon," Thorkildsen said in Doha, where he will take part in the Qatar Athletics Super Grand Prix on Saturday, and is eyeing his fourth successive title.
"First of all, with the javelin world record, you need a very good tail wind to get there. But it will be interesting to see if someone can. I have not tapped my full potential, so you will have to wait and see," he added.
Text: ND Prashant in Doha
Thorkildsen wants to emulate Zelezny
May 7, 2009 17:48 IST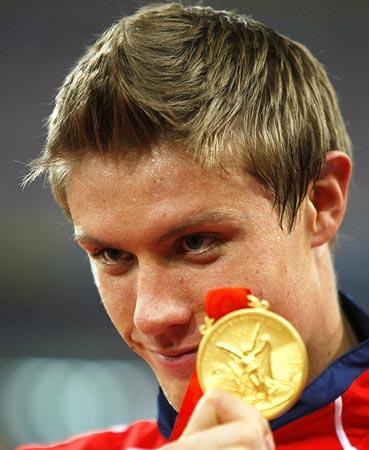 The 27-year-old successfully defended the Olympic gold in Beijing and joined an elite list of four javelin throwers in the Games' history who have won their event at two consecutive Olympics.
But Thorkildsen now wants to emulate Zelezny, who won three consecutive gold medals -- in Barcelona (1992), Atlanta (1996) and Sydney (2000). He believes he can compete in another three Olympics if he stays fit.
"It's a great feeling to get among the greats, but I want to keep moving ahead. I think I still have not reached my full potential. I think I can take part in another four Olympics. If not four, three at least, another ten years of competitive career is there.
"If I can stay healthy many more goals can be achieved. I just want to keep working hard. If you see the records, most javelin throwers peak at the age of 30 to 35. So I still have time and age on my hands," he said.
Thorkildsen's golden run started in Athens
May 7, 2009 17:48 IST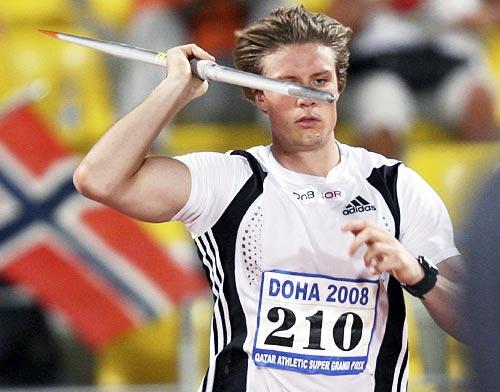 Thorkildsen grabbed the headlines when he shocked the world by winning the javelin gold at the Athens Olympics in 2004 at a tender age of 22.
Apart from that gold medal he has enjoyed a consistent run, winning gold at the European Championships in 2006 and two silvers at the World Championships.
Son of former javelin-thrower Tomm, Thorkildsen took up the sport at a young age under the tutelage of his father. His mother Bente was also actively involved in athletics and was the Norwegian national champion in the 100 metres hurdles in 1972.
Thorkildsen set an Olympic record of 90.57 metres in Beijing en route to beating Lativian Ainars Kovals for the gold medal. His arch-rival and reigning World champion Tero Pitkamaki won the bronze, finishing a distant third with 86.16 metres.
'Athens gold medal lies close to my heart'
May 7, 2009 17:48 IST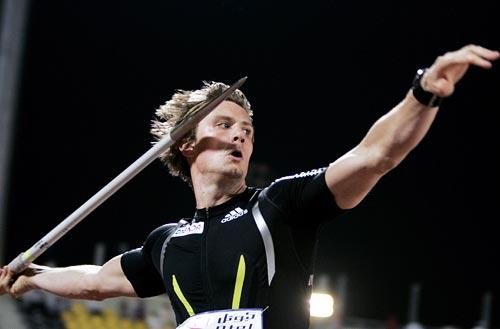 Thorkildsen, however, values the Athens gold medal more than his recent triumph in Beijing.
"Athens was my big break. Nobody expected me to win there. So the Athens gold medal lies close to my heart. In Beijing, everyone expected me to win but you can only prepare well and hope to do whatever you can to reclaim the title.
"I did just that in Beijing. There was pressure but I was feeling great going into the finals. The final warm-up gave me a feeling that it's going to be my day," he said.
The Norwegian arrived in Doha early to get acclimatized to the conditions, where he is eyeing his fourth title.
"It is exciting to be back here as this is the first competition of the year. I have won here three years in a row and I'm looking to win the title fourth time. All the training has gone well and my throwing looks stronger than ever. If my pre-tournament training goes well, then we can expect really good results," he said.