Suranjoy Singh gave India its first Asian Boxing Championship gold in 15 years while Thokchom Nanao Singh and Jai Bhagwan settled for silver medals as the country's boxers rounded off a 27-year-best performance in the elite event in Zhuhai, China, on Saturday.
India ended their campaign with a gold, two silver and four bronze medals, which went to Jitender Kumar (54kg), Vijender Singh (75kg), Dinesh Kumar (81kg) and Paramjit Samota (+91kg).
The team placed third in the overall standings, behind hosts China and Uzbekistan.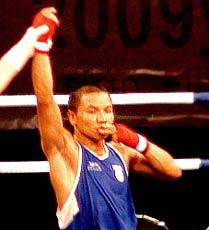 The performance saw a marked improvement from the 1982 championships held in Seoul, where the country's boxers notched two gold, an equal number of silver and a bronze medal.
The last gold medal for India in the Asian Championships came in the 1994 edition in Tehran where Rajkumar Sangwan finished on top in the super heavyweight category.
On Saturday, it was a flyweight (51kg) boxer who broke the 15-year jinx. Suranjoy, a junior World Championships bronze medallist in 2004, beat Li Chao of China 9-8 in a thrilling encounter.
"It was certainly not one of my best performances, because my opponent came very close to upstaging me; but I am thrilled to win India's first gold medal here in 15 years," an elated Suranjoy said.
"I did not keep track of whether I was leading or trailing and that was a good thing considering it was such a close bout. I attacked him hard in the third round after taking it slightly easy in the first two rounds," Suranjoy, the reigning national champion, said.
"I fought with my guard down for some time as this tactic can unsettle the opponent and, thankfully, the strategy worked. I was confident of winning a gold when I first landed here and I am glad that I have managed to do that," the 22-year-old Manipuri added.
However, 18-year-old youth World champion Nanao Singh (48kg) was not as lucky and went down 8-9 to Thailand's Pongprayoon Keaw.
"It was so heartbreaking. Nanao was so much better than his opponent. He fought so well but just didn't have the luck," said coach Gurbax Singh Sandhu.
"It was a see-saw battle and our boy led most of the time but the lead was narrow and Keaw managed to catch up in the end," he explained.
In the lightweight summit clash, Jai Bhagwan lost 3-8 to Hudayberdiev Serdar of Turkmenistan and settled for the second place.
The Haryana-boxer was a bronze medallist in the 2005 Asian Championships in Vietnam and despite the improved colour of his medal this time, he was disappointed at missing the gold.
"I wanted the gold. I fought hard but his tactics were way too evasive. He ran around the ring a lot and was hard to catch. But I am glad that our team has done so well," Jai said.
Sandhu, who was also the coach of the team both in 1982 and 1994, said the country's boxers made quite a reputation for themselves this time.
"It has been just fantastic. I was expecting at least four gold medals but unfortunately that didn't happen. Even then my boys have done the country proud by beating boxers from some top countries," he said.
India had sent an 11-member team for the event, out of which 10 made the quarter-finals.
Chhote Lal Yadav (57kg) and Vijender's cousin Balwinder Beniwal (64kg) lost in close bouts in the quarter-finals.
While Balwinder lost on count-back, Yadav lost by a point after being declared winner initially.