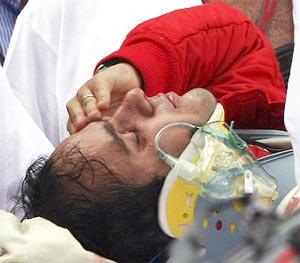 Injured Formula One driver Felipe Massa can now communicate "actively" and is able to move his hands and legs, a Hungarian Defence Ministry spokesman said on Monday.
Brazilian Massa, who fractured his skull in an accident during qualifying for the Hungarian Grand Prix on Saturday, is waking up from sedation more and more frequently.
Spokesman Istvan Bocskai told Hungarian television that Massa, whose wife is expecting their first child, spent the night calmly and an ultrasound examination carried out in the past hours was "reassuring."
Massa would also have another brain scan, Bocskai added.
"He's woken up [from sedation] more and more often now and he's able to communicate actively, that is, he reacts when he's talked to. We are optimistic, in our hope a slow recovery is beginning."
Bocskai said Massa could move his hands and legs, signs that his brain likely suffered no particular damage, but doctors are not at the stage where they could be totally sure of that.
Ferrari president Luca di Montezemolo will fly to Hungary on Monday to be at the Massa's bedside.
Last year's championship runner-up was flown to hospital after being hit on the head by a bouncing spring, weighing almost a kilo, that broke free from compatriot Rubens Barrichello's Brawn car.
A Defence Ministry official had said on Saturday the driver had been in a "serious, life-threatening condition" before an emergency operation.
The accident, which is likely to rule Massa out of the next few races, brought back grim memories of the crash that killed compatriot and triple champion Ayrton Senna at Imola in 1994 and led to renewed concerns about safety.
Photograph: Reuters