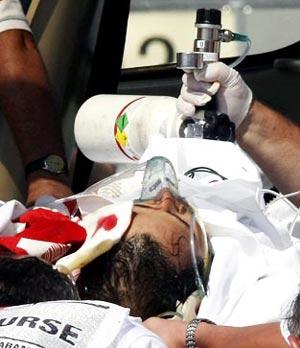 Ferrari's Felipe Massa will be kept under sedation for 48 hours after fracturing his skull in a freak accident at the Hungarian Grand Prix, a hospital doctor attending the Formula One driver said on Sunday.
Peter Bazso said the 28-year-old Brazilian is in a stable condition after surgery at Budapest's AEK military hospital on Saturday. A brain scan on Sunday has produced reassuring results.
"It brought the result that we had expected concerning an injury of this type," he said.
The doctor said Massa nonetheless remains in intensive care and in an "acute phase" of treatment.
He was woken from sedation briefly on Sunday after family members arrived, but then put back. The doctor said Massa will remain in that state for 48 hours before being awakened again.
Bazso declined to go into details about the length or type of further treatment.
Last year's championship runner-up was flown to hospital after being hit on the head by bouncing debris from compatriot Rubens Barrichello's Brawn during Saturday's qualifying.
A Defence Ministry official said on Saturday that the driver had been in a "serious, life-threatening condition" before the emergency operation.
The accident, which is likely to rule Massa out of the next few races as well as Sunday's at the Hungaroring, brought back grim memories of the crash that killed compatriot and triple champion Ayrton Senna at Imola in 1994 and led to renewed concerns about safety.
Ferrari said in their own update on Sunday morning that Massa's "condition remains stable and there were no further complications through the night."
Formula One supremo Bernie Ecclestone went to see the Brazilian on Saturday night and said he hoped to visit again later.
"I think he's okay. Everybody seemed quite happy with him this morning. The hospital's happy, which is more important," he told Reuters at the Hungaroring.
"I'm waiting to see because he might be asleep all day. If he is awake then I'll go and see him."
Photograph: Reuters