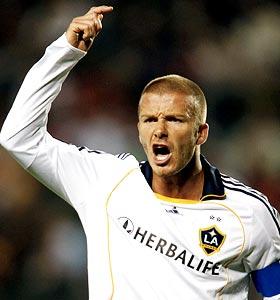 He was supposed to be the man who would take soccer in the United States to the next level yet David Beckham is in danger of becoming an embarrassing liability to the game in the country.
On a weekend when 65,000 people turned out for a friendly match in Seattle, 82,000 watched a Gold Cup game in Dallas and the US national team continued their impressive form with another victory, the soccer news was all about Beckham being booed by his own fans.
The fans wrote their own headlines -- "Go Home Fraud" read one bluntly worded banner draped over a section of the Galaxy stadium while another made the point in a more eloquent manner: "Hey Becks, here before you, here after you, here despite you".
American soccer fans were not supposed to be following L.A Galaxy despite Beckham -- the plan was they would fall in love with the team because of the celebrity midfielder.
A significant section of the LA fans have turned against Beckham for one simple reason -- he turned his back on them.
Beckham's decision to spend the Major League Soccer (MLS) off-season, from January to March, playing on loan for AC Milan in Italy, was grudgingly accepted at the time it was announced. When he decided to stay until the end of the Serie A season and so miss the first half of the MLS campaign it was a different matter.
Sports pundit Jay Mariotti, a regular on radio and television sports talk shows, wrote on Monday: "Beckham came here two years ago intending to lift Major League Soccer to unprecedented heights, but when he abruptly abandoned his stated mission in January for more prestigious duty in his native Europe, his purported goal became phony and rather pathetic."
Perhaps, the 34-year-old could have patched up things with his fans, and other supporters of the game in the U.S, if he had returned and apologised for letting them down.
Instead Beckham, whose professionalism and commitment had been questioned by his team mate Landon Donovan, in a new book, thought that making up with Donovan would be enough of a gesture.
It clearly was not.
On his return, Beckham could have told the LA fans: "I am sorry for letting you and the team down but I really felt I needed to finish the season in Italy. Now though I am back with you and 100 percent committed to this club".
He could not say that, however, as he is already eyeing another six-month loan deal to Europe, perhaps to Milan, perhaps to an English team.
"At the moment all I'm concentrating on is being part of this team [LA] and being successful with this team. Once the season is over, then I will decide and decide what I do from then on," he said last week.
It is hardly the kind of talk to convince fans he really cares about the long-term future of their team.
What is occupying Beckham's mind is the need to keep himself in the good books of England manager Fabio Capello, who the midfielder says wants to see him playing in Europe before next year's World Cup in South Africa.
"Leading up to the World Cup, the England manager has made it very clear to me that I need to be playing at a European level," he told reporters last week. "So I will do everything possible... I'll always regret it if I didn't do everything and to give myself a chance to be involved in that."
The puzzling aspect is why, if Beckham's number one priority is playing for England in the World Cup, he chose to come and play in Major League Soccer at all?
Perhaps it was the appointment of Capello that changed things -- in which case, why has Beckham not sought a permanent transfer away from Galaxy to a club in Europe?
Major League Soccer faces a tough task in establishing its credibility among sports fans in the United States as a serious professional league and Beckham, rather than showing this is a league that attracts quality foreign players, is merely adding to the belief of some that MLS is not something to be taken too seriously.
There was one positive for MLS that came out of Sunday's anti-Beckham protests: the Galaxy fans showed the world that they are not star-struck kids in awe of the celebrity Beckham but are as passionate, loyal -- and as rude -- as fans anywhere else in the world.
Fans of Manchester United or Real Madrid would not put up with one of their top players spending half the season with another team in another league and Galaxy supporters showed they do not accept such an arrangement either.
Boos and protests, while headline grabbing, are not good for any team or any league. The question now is how long Beckham, Galaxy and the MLS are prepared to let the situation continue.
Photograph: Reuters