Belgium's Queen Paola (centre) poses with former Romanian Olympic gold medal gymnast Nadia Comaneci (left) and Romanian tennis legend Ilie Nastase after arriving at Focus Romania on Wednesday.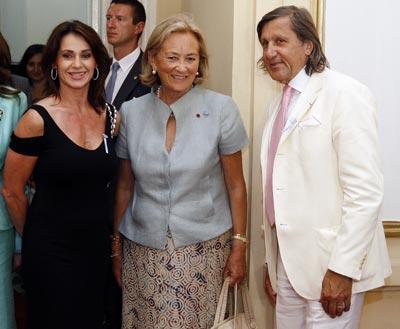 Focus Romania is a centre helping police in the investigation following the missing of children and sexually exploited children in Bucharest.
Belgium's King Albert II and Queen Paola paid tribute to Danny Huwe while on a three-day official state visit to Romania.
Nãstase won several Grand Slam titles, including singles titles at the French and US Opens, and dozens of other tournaments, and was the first player to be ranked as number one.
Comãneci became the first gymnast ever to score a perfect "ten".
She also won three gold medals, one silver and one bronze, all at the age of fifteen at the Montreal Olympics in 1976.
Her success continued in the 1980 Moscow Olympics, where she bagged two gold medals and two silver medals.