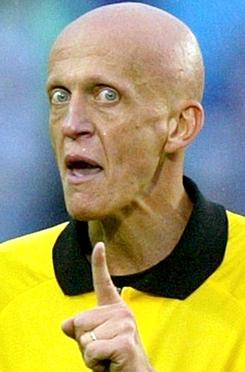 Italy's former leading referee Pierluigi Collina has said he is not in favour of the use of video officials.
Collina appeared to come out in favour of video evidence in an interview published in Tuesday's La Gazzetta dello Sport but he later clarified his comments.
"It was provocation made by someone with referees' interests at heart, not a supporter of technology," Collina, who now appoints officials for Italian games, told Sky television.
"Referees are blamed because they are unable to see what can be shown by technology that has made giant steps forward. No matter how prepared referees are and how hard they work, they will never be able to compete with technology.
"Either we understand this and accept that referees make mistakes or, and here is the provocation, we give referees the same instruments as those who judge them.
"The only solution is a cultural development that leads to the acceptance of human errors."
Collina had been reported as supporting the use of video officials.
"I'll make a provocation," he told Gazzetta. "At this point we might as well use technology, otherwise the referee is the only one who has to decide with his own eyes, while everyone else assesses things with increasingly perfect technology."
He added that referees would have "no reason to reject" the introduction of video officials as it would help them avoid career-threatening mistakes.
Collina cited the example of Swedish referee Martin Hansson, who missed Thierry Henry's handball in the build-up to a goal in a World Cup playoff in November which enabled France to reach the finals in South Africa at Ireland's expense.