The Indian duo of Prabhjot Singh and Surinder Kaur were named in the International Hockey Federation's (FIH) Men and Women World All Star Teams announced on Thursday.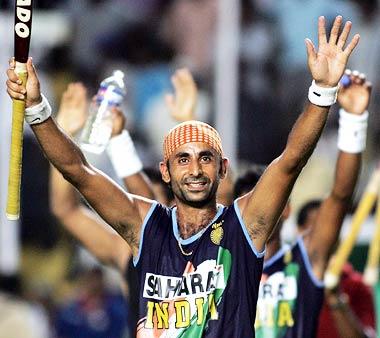 Veteran forward Prabhjot made it to the 18-member men's team which has Australian legend Ric Charlesworth, who had a bitter stint with the Indian team, and Markus Weise of Germany as its coaches.
Women's hockey finally got some prominence with Surinder being the lone Indian in the All Star line-up.
The All Star Teams 2009 were selected by visitors of the FIH official website.
Men's All Star Team:
Salman Akbar (Pak), Pol Amat (Esp), Simon Child (NZ), Jamie Dwyer (Aus), Moritz Furste (Ger), Myung Ho Lee (Kor), Ashley Jackson (Eng), Mark Knowles (Aus), Barry Middleton (Eng), Maximilian Muller (Ger), Teun de Nooijer (Ned), Eddie Ockenden (Aus), Jong Ho Seo (Kor), Rob Short (Can), Prabhjot Singh (Ind), Austin Smith (SA), Taeke Taekema (Ned) and Christopher Zeller (Ger).
Coaches: Ric Charlesworth (Aus) and Markus Weise (Ger).
Women's All Star Team:
Naomi van As (Ned), Luciana Aymar (Arg), Tina Bachmann (Ger), Noel Barrionuevo (Arg), Madonna Blyth (Aus), Tony Cronk (Aus), Casey Eastham (Aus), Gemma Flynn (NZ), Baorong Fu (Chn), Surinder Kaur (Ind), Natascha Keller (Ger), Yibo Ma (Chn), Marsha Marescia (SA), Miyuki Nakagawa (Jpn), Maartje Paumen (Ned), Helen Richardson (Eng), Janneke Schopman (Ned) and Belen Succi (Arg).
Coaches: Carlos Retegui (Arg) and Frank Murray (Aus).