Argentina striker Sergio Aguero, who is expecting to complete a 32 million pound move to Chelsea in next month's transfer window, has said that he was born to play for the Blues.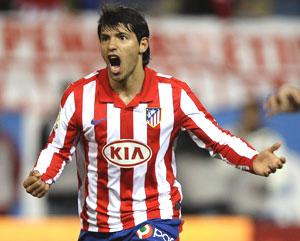 The Atletico Madrid footballer has spoken for the first time about joining the Premier League leaders and insisted that he will quickly settle into English football.
"Chelsea are interested in me because they think I can play an important role for the team. And I think I fit with their style of play. Of course I watch the Premier League on TV and I think it is the best league in the world, along with the Spanish league," The Sun quoted Aguero, as saying.
Chelsea boss Carlo Ancelotti has been tracking the 21-year-old all season and negotiations with Atletico about the transfer are almost complete.
Aguero scored a sensational volley against the Blues in their 2-2 Champions League draw in Madrid during the group stage of the competition on November 3. Now Aguero is confident he will be scoring goals for Chelsea.
He believes that he could become just as important a player for Chelsea as Spanish superstar Torres is for Liverpool.
But while he rates the English game highly, he still thinks the best team in the world plays in La Liga.
"I think that right now, the best team is Barcelona because they have won three trophies and they are still going just as well," he said.
"Chelsea are a very good team with very good players. The two teams are at a very high level."