Manchester City boss Mark Hughes is facing a two-game touchline ban for saying that referee Mark Clattenburg's decision to red card Craig Bellamy on Saturday was premeditated.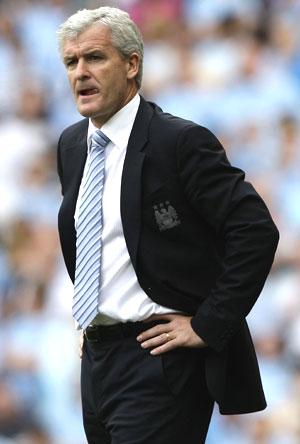 Hughes alleged that he simply reacted to Clattenburg's half-time comments about Bellamy to one of the City's backroom staff.
Clattenburg reportedly asked the staff: "How do you put up with that Craig Bellamy all week?".
Hughes has now been asked by the FA to explain his comments and a charge of bringing the game into disrepute will follow.
But, City are going to call the team physio to testify about Clattenburg's half-time comments in the tunnel at Bolton and are looking for TV evidence that this conversation took place.
Bellamy was booked for arguing about a second-half throw-in decision after Bolton had scored their third in the 3-3 thriller at the Reebok stadium.
And he was then shown a second yellow card for diving when he was clearly caught by defender Paul Robinson on 65 minutes.
Hughes ripped into the referee after the match and said: "It was a laughable decision. It is quite clear the guy has taken him out. Clattenburg said Craig was looking to deceive him but I don't understand why he thought that - he was in a good position."
"I don't appreciate it when referees are going out for the second half and passing comments on who they like and who they don't in my team."
Hughes refused to back down and maintained: "I just said what I was made aware of. That's all I said."