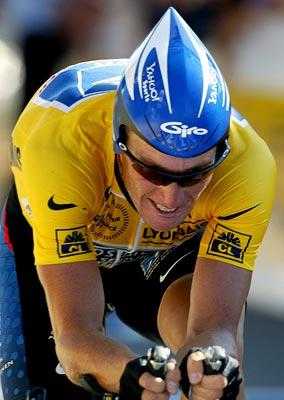 Lance Armstrong will retire for good after the 2011 season and will do everything in his power to win an eighth Tour de France title in the next two years, the American said on Thursday.
The 38-year-old American, who returned to cycling in January after three and a half years in retirement, has set up his new Radioshack team and taken most of his former Astana team-mates with him, except great rival and Tour champion Alberto Contador.
"After 2011, I'll retire," Armstrong told Italy's Gazzetta dello Sport newspaper from a training camp in Arizona.
"This team hasn't been constructed for me, I'm 38. Our aims go further than Armstrong."
Contador, who opted to stick to his contract with a weakened Astana despite having other offers, is training in Italy this week and Armstrong said the Spaniard would be difficult to beat in France next July whoever he races with.
"Alberto is an incredible talent, better than anyone both on the bike and mentally. I'm not an idiot, it will be hard to beat him. Some say impossible. We'll see," said Armstrong, who blamed a "clash of personalities" for 2009's tension with Contador.
Armstrong, who welcomed news the Giro d'Italia could start from Washington in 2012, also said he would end his independent doping controls and stop putting results online because they cause silly speculation and authorities test constantly anyway.