Unheralded Englishman Daryl Selby caused the biggest upset of the $152, 000 Punj Lloyd PSA Masters squash tournament on Sunday when he shocked top seed Gregory Gaultier of France in the opening round.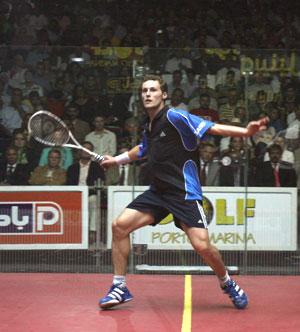 The 27-year-old came from behind to win 12-10, 1-11, 11-13, 11-6, 11-6.
Selby, scheduled to meet World No1 Karim Darwish in the opening round before the Egyptian pulled out of the flagship event with a back injury, made the most of the opportunities he got against Gaultier, a player the Englishman had never beaten in four previous meetings.
Gaultier, a former British Open champion (2007) who also won the prestigious JP Morgan Tournament of Champions in New York at the start of year, was guilty of letting the umpire's call affect his game.
After dropping a tight first game, the 26-year-old Frenchman had bounced back to win the next two and was up 6-4 in the fourth when he lost his concentration, after a few calls went in favour of the Englishman.
Selby seized on the opportunity to reel the next seven points and to his credit, controlled the proceedings in the deciding game.
"It was all in the mind," summed up the winner. "If you give Gaultier any chance he will run through you as he did to me in the second and the third games.
"But I hung on. It was all guts."
The Englishman, a veteran considering he joined the PSA back in 1999, also attributed his triumph partly to his recent run of good results that helped him hang on against an opponent against whom he hadn't managed to take a game before Sunday.
"My recent performances have given me a lot of confidence," he gushed. "Especially my title-win at the Dutch Open in The Netherlands last month."
The tournament, held in a specially constructed glass court at the Bombay Gymkhana, is the eighth staging of the PSA Masters, the only tour event that is open to the top 32 players in the world.
The PSA Masters also makes a comeback after three years after it was last held in April 2006 (at  Bermuda), when Egyptian Amr Shabana beat England's Peter Nicol to the title.