David Beckham said that England would be perfect hosts for the 2018 football World Cup because "football is in our DNA".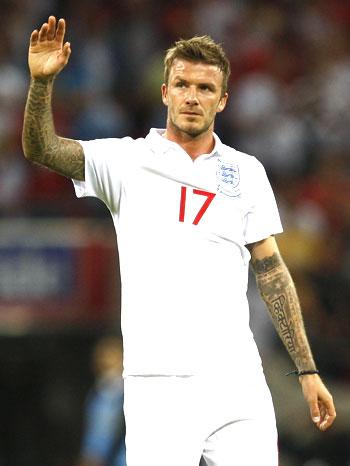 Pitching for England's bid to host the 2018 World Cup, the midfielder said that England's football "culture" and "diversity" made it an ideal location.
"Football is in our culture, in our DNA, it's in us from the moment we are brought into this world, from when we are born and that's something we will always have," The Telegraph quoted him, as saying.
"England is one of the few countries with its stadia and its infrastructure that could host a World Cup almost immediately, next week. The diversity of cultures around our country is a big thing as well," he added.
Beckham has emerged as the figurehead of England's 2018 campaign, and his top-level talks with FIFA president Sepp Blatter and vice-president Jack Warner on Wednesday will be followed by meetings with four African members of FIFA's executive committee on Friday.
"We have one of the biggest leagues in the world but you can't get over-confident that just because we have that we will automatically be given the World Cup. It takes more than that to win a World Cup (bid). The positives are there but there is still a lot of hard work to be done," he added.
Beckham is being viewed as the man who can do for England what Franz Beckenbauer did for Germany when they won the right to host the 2006 tournament.
"Of course I understand how important my role is and the reasons why I am standing here. The reason I joined the bid was to try and help and I'm very honoured and touched to be involved in this bid. I'm well aware of how important it is for my country," he said.
"My experience of being involved in the Olympic campaign was something that I really enjoyed being part of that was very special but that was not my sport," he added.