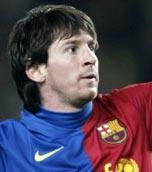 Barcelona and Argentina forward Lionel Messi was awarded the 2009 Ballon D'Or, French magazine France Football said on its website on Tuesday.
The 22-year-old became the first Ballon D'Or winner from Argentina, eclipsing runner-up and last year's winner Cristiano Ronaldo by a record 240-point margin.
The award's 96 jurors gave Messi 473 points out of a possible 480, a near unanimous verdict, the magazine said.
Messi becomes the first Argentine to win the award - opened to non-European nationals 15 years ago with Liberia's George Weah the first non-European winner. 
Brazilian Kaka, who won two years ago, came in sixth this year with just 58 points.
Swedish forward Zlatan Ibrahomovic, now Messi's teammate at Barca after arriving from Inter Milan, placed seventh ahead of Manchester United striker Wayne Rooney, Chelsea's Ivorian striker Didier Drogba and Liverpool midfielder Steven Gerrard. 
Fernando Torres was 11th and Arsenal's Cesc Fabregas was 12th. Thierry Henry, another of Messi's Barca colleagues and who has never won the award, came in 15th.
The win caps a brilliant year for the soft-spoken left-footer, who helped Barcelona to a UEFA Champions League title with nine goals, as well as bagging six in the King's Cup and 23 in the league.
The gong, formerly known as the European Footballer of the Year award, was voted on by journalists from across the world.
List of Ballon d'Or (formerly European Footballer of the Year) winners:
1956 - Stanley Matthews (England)
1957 - Alfredo di Stefano (Spain)
1958 - Raymond Kopa (France)
1959 - Di Stefano
1960 - Luis Suarez (Spain)
1961 - Omar Sivori (Italy)
1962 - Josef Masopust (Czechoslovakia)
1963 - Lev Yashin (USSR)
1964 - Denis Law (Scotland)
1965 - Eusebio (Portugal)
1966 - Bobby Charlton (England)
1967 - Florian Albert (Hungary)
1968 - George Best (Northern Ireland)
1969 - Gianni Rivera (Italy)
1970 - Gerd Mueller (West Germany)
1971 - Johan Cruyff (Netherlands)
1972 - Franz Beckenbauer (West Germany)
1973 - Cruyff
1974 - Cruyff
1975 - Oleg Blokhin (USSR)
1976 - Beckenbauer
1977 - Allan Simonsen (Denmark)
1978 - Kevin Keegan (England)
1979 - Keegan
1980 - Karl-Heinz Rummenigge (West Germany)
1981 - Rummenigge
1982 - Paolo Rossi (Italy)
1983 - Michel Platini (France)
1984 - Platini
1985 - Platini
1986 - Igor Belanov (USSR)
1987 - Ruud Gullit (Netherlands)
1988 - Marco van Basten (Netherlands)
1989 - Van Basten
1990 - Lothar Matthaeus (Germany)
1991 - Jean-Pierre Papin (France)
1992 - Van Basten
1993 - Roberto Baggio (Italy)
1994 - Hristo Stoichkov (Bulgaria)
1995 - George Weah (Liberia)
1996 - Matthias Sammer (Germany)
1997 - Ronaldo (Brazil)
1998 - Zinedine Zidane (France)
1999 - Rivaldo (Brazil)
2000 - Luis Figo (Portugal)
2001 - Michael Owen (England)
2002 - Ronaldo
2003 - Pavel Nedved (Czech Republic)
2004 - Andriy Shevchenko (Ukraine)
2005 - Ronaldinho (Brazil)
2006 - Fabio Cannavaro (Italy)
2007 - Kaka (Brazil)
2008 - Cristiano Ronaldo (Portugal)
2009 - Lionel Messi (Argentina)