Brimming with confidence after becoming the first Indian mixed doubles pair to win a Grand Prix Gold title in Chinese Taipei, Jwala Gutta and V Diju have now set their eyes on cracking the top-five of world ranking by the year end.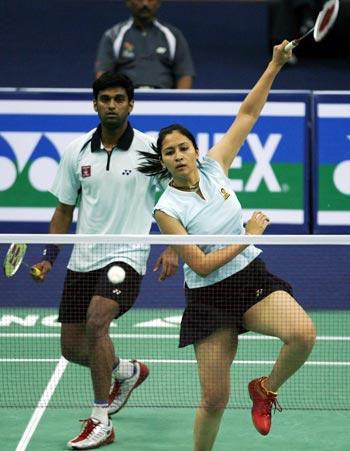 The world number seven Indian pair won the Chinese Taipei Grand Prix Gold on Sunday after notching up a straight-game win over Indonesian duo of Hendra Aprida Gunawan and Vita Marissa in the final.
"I don't want to think much about the ranking but ideally we would like to break into the top five. That would be our aim but we will have to work really hard for it," Jwala told PTI from Taiwan.
Her partner Diju, however, said the ranking would be very important as it would be the qualifying criteria for Super Series Master Final in December.
"We are aiming at the Super Series Masters Final which is by the year end and according to the BWF rules, only the top eight teams qualify for that. So our aim would be to reach at least quarterfinal of each of the tournaments that we play from here on so that our ranking doesn't slump," Diju said.
The ace mixed doubles pair will play Japan Open next in September end before embarking on the European tour where they will play Danish Open and French Open. 
Jwala said this win will further catapult them to the top and a lot of expectation would ride on the duo every time they take the court, especially with the 2010 Commonwealth Games round the corner. 
"I know now there would be a lot of expectations from us. Every tournament we would be expected to win and there would be expectations for the Commonwealth Games as well," Jwala said.
"I have always loved playing for team events and Commonwealth Games is a team event. We would give everything to win a medal there. We have to handle a lot of pressure but it has never been a problem for me. I love playing under pressure," she added.
Diju also agreed with Jwala. 
"I have worked hard in the 5-6 months and there is no problem with the stamina. Only difference is the confidence. If we win, our confidence shoots up and we go into a match with the right spirit so if we can keep the tempo up we can win against any opponent," Diju said.
Jwala and Diju recently became the first Indian pair to reach quarterfinals of the World Badminton Championship in Hyderabad. 
And Jwala, who belongs to Hyderabad, said that the World Championship performance has only boosted their confidence further. 
"We played well in the World Championship and our performance was a matured one. we are improving with each tournament. I and Diju started playing together from last year and in this few months we have come up with some really good results. Each win has boosted our confidence," she said.
Meanwhile, Diju said he is planning to pair up with Chetan Anand to play in the men's doubles.
"I had a talk with Chetan and he is also keen. If it does not affect his game and he is not too tired then we would like to start playing in Indian ranking tournaments," Diju said. 
Diju had to skip the Macau Open because of a stiff back and the tall Keralite said his decision was justified as it helped him to regain complete fitness.
"I'm feeling okay now. There was a little pain after the long match yesterday but I am happy that I took the right decision in skipping the Macau Open as it helped me to be at the top of my game for Chinese Taipei," he said.