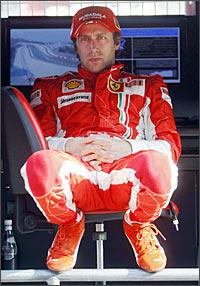 Struggling Ferrari stand-in Luca Badoer says it would be 'absurd' for the Formula One champions to replace him ahead of his home Grand Prix at Monza next week.
Badoer, 38, has qualified and crossed the line last in the two races he has started as replacement for injured Brazilian Felipe Massa.
"I can say that after two races, I have much more of a grip on this mountain of things to learn," the Italian told reporters after a Belgian Grand Prix won by team mate Kimi Raikkonen on Sunday.
"From these two Grands Prix I have learnt so much and grown in experience. From my point of view, it would be a shame to change things now.
"Monza, Mugello and Fiorano are the tracks where I have driven most in my life. It would be absurd and I would be very disappointed because I am convinced that at Monza I have the feeling needed.
"Going to a track that I could drive with my eyes closed, I am sure I could get a good result. If I had to set myself a deadline, maybe I would do it for after Monza. I would be the first to say: 'Lads, it's not working out'."
The Italian, who has yet to score a point in 51 starts, has had to contend with almost a decade's absence from Grand Prix racing and has also had next to no mileage in the car due to the sport's testing ban.
With the English-speaking media already dubbing the unfortunate driver 'Look How Bad You Are', the pressure is building up on Ferrari to replace him for the September 13 Italian Grand Prix.
The Gazzetta dello Sport said their website poll had found 80.1 percent of readers in agreement that Badoer must go. Some 59.9 percent felt compatriot Giancarlo Fisichella, second on Sunday for Force India, should take his place.
Team boss Stefano Domenicali said Ferrari would make a decision in the next three days.
"Ferrari does not want to be last in the race, that is for sure. But as we said, we need to put on the table all the considerations and then as soon as we have taken the decision we will keep you informed," he said.