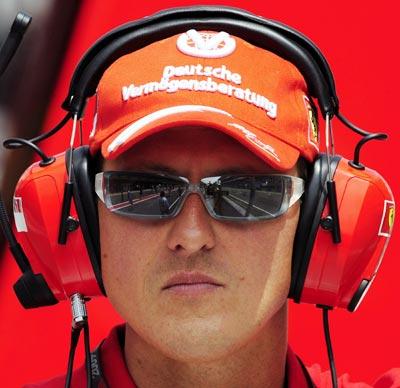 Seven-times world champion Michael Schumacher [ Images ] could come out of retirement to drive for Ferrari [ Images ] next year if the FIA (International Automobile Federation) governing body allows the team to run a third car.
"It is correct to say that, if everything is fine, why not see him [Schumacher] in one of our cars?" Ferrari principal Stefano Domenicali said in an interview with the Times newspaper on Saturday.
"It is true we are pushing [for three cars instead of two]. We feel it is for the benefit of Formula One and it is better to make sure the biggest teams have three cars because that's what people want.
"With all respect to the smaller teams, the value of Formula One is to have good drivers, great personalities, in good cars and with a great brand," added Domenicali ahead of Sunday's Belgian Grand Prix [ Images ] at Spa-Francorchamps.
The 40-year-old Schumacher, who retired in 2006, cancelled plans for a temporary return to the sport earlier this month because of fitness concerns.
The German was due to replace the injured Felipe Massa [ Images ] but a neck injury sustained in a motorcycle accident earlier this year was causing him pain during testing and Ferrari had to give the seat to experienced test driver Luca Badoer [ Images ].