Brimming with confidence after the team's recent four-nation tour of Europe, captain Sandeep Singh said India will be a force to reckon with at next year's hockey World Cup in Delhi.
Indian hockey slumped to its lowest ebb last year when, for the first time in the history of the Olympics, the eight-time champions failed to qualify for the Beijing Games.
Subsequently, Spaniard Jose Brasa was appointed coach of the national team.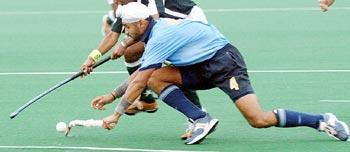 "The team is shaping up well for the World Cup. I feel we will give a tough fight to top hockey-playing nations in the World Cup," Sandeep said.
"Both (chief coach) Brasa and (coach) Harendra Singh have been working hard with us to prepare the team for the World Cup and Commonwealth Games and the boys too are learning fast," he said.
Brasa's first assignment with the team, however, was far from rosy as India lost three of the four Test series in Europe, though Sandeep claimed they lost despite playing better hockey than their opponents.
"If you watched the matches, you'd know we played better hockey than our opponents in all the four series," he said.
More than the outcome, Sandeep said the idea behind the 25-day tour was to get as much practice as possible.
"Our main target was to practise. We didn't go there thinking we would win every match. On match days also, we practised in the morning and played in the evening.
"As coach sir (Brasa) said before leaving, we considered this tour as a learning curve and we did learn many things. We specifically focused on man-to-man marking and European style of hockey and it was great to see the boys adapting fast," Sandeep said.
Ranked 12th in the world, India started their Europe tour with 1-2 loss against seventh-ranked England but came back strongly to beat World No 9 Belgium 2-1 in the three-Test series.
Brasa's boys also displayed a strong performance against Beijing Olympic runners-up Spain and world No 4 Holland although they lost both the series 1-2 and 0-1 respectively.
Sandeep was disappointed that the hockey nationals, scheduled to be held at Pune next month, were postponed due to the swine flu pandemic.
"It was unfortunate but the organisers took the decision keeping in mind players' safety. The nationals would have given those boys who are not part of the national camp a chance to show their potential and earn a place in the national team," the ace drag-flicker said.
Talking about his career, Sandeep did not rule out the possibility of playing in foreign leagues in future but said national duty would always top his priority list.
"Right now I am busy with the national team. Representing India comes first before anything, but in future if I get good offers, I might consider them," Sandeep added.