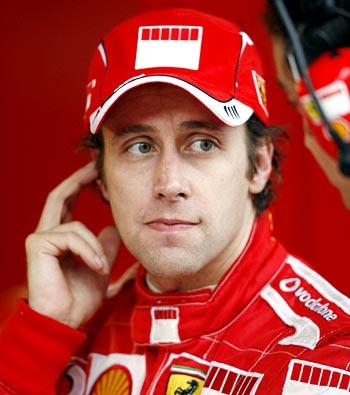 Formula One drivers backed Italian Luca Badoer on Saturday after the Ferrari stand-in finished last in European Grand Prix qualifying in Valencia.
"I think he's done a good job," said McLaren's world champion Lewis Hamilton of the 38-year-old test driver who is returning to Grand Prix action after an absence of nearly 10 years.
"He's not put it in the wall, he's kept it on the track," Hamilton told reporters after taking pole position. "It's an incredibly tall order to jump into the footsteps of Felipe Massa.
"He hasn't even raced for 10 years so I think anyone who has taken that long out of the car is going to struggle. But instead I think he has done a good job just to keep it on the track and bit by bit he will catch up."
Brazilian Massa was seriously injured at the last race in Hungary and plans for retired seven-times world champion Michael Schumacher to replace him fell through when it emerged the German was still suffering a neck injury from a motorcycle accident.
McLaren's Heikki Kovalainen said modern Formula One made it difficult to jump into an unfamiliar car and go quick.
"I don't know what else you could have expected," he said.
MORE COMPLICATED
"Sometimes the tyres warm up, or they overheat or they don't warm up and it's much more complicated than a few years ago where they brought tyres that worked out straight away in different conditions.
"I think that knocks the driver's confidence very easily, if the tyres are not working 100 percent you can't push if you don't feel you have the grip."
Toyota's Jarno Trulli agreed.
"We are in the business and we all know how hard it is. People from the outside would probably expect more but it is impossible honestly," said the Italian.
"I think he has to enjoy what he is doing and try to do his best step-by-step because miracles do not happen like this. If miracles happen then we should save them for much more important things."
Badoer, who failed to score a point in his 49 previous starts for various now-defunct teams, will be the first Italian to race for Ferrari in 15 years when he starts on the Mediterranean street circuit on Sunday.
He did not attempt to hide his disappointment after a session in which team mate Kimi Raikkonen highlighted the potential of the car by qualifying sixth.
"It's never nice to be last in any situation but I always knew it would be tough," he said. "As I've said before, this weekend is a sort of test for me and the team and that is how we are tackling it.
"Tomorrow it will be important to finish the race and that will be my target."