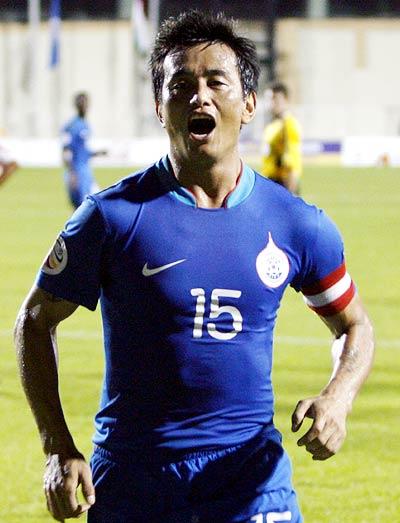 'God's gift to Indian football' and an 'icon of his generation' is how the country's former greats described national captain Baichung Bhutia, who became the first Indian player to compete in 100 international matches.
Bhutia, who began his international career in 1995 at the age of 19, on Sunday reached the milestone of playing 100 matches for the country when he led India in their second round-robin match of the Nehru Cup international football tournament in New Delhi.
Former captain Chuni Goswami described Bhutia as the trendsetter of his generation, whose commitment to the game is unquestionable.
"He is a great footballer, a committed player who works very hard to keep himself fit, a true professional. It's a great moment for him and the entire football fraternity. My heartfelt congratulations to him," Goswami said.
"He is a role model for the new generation. I have known him for many years, we have an excellent relationship. I wish him all the best," said Goswami, who led the 1962 Asian Games gold winning team.
Bhutia's senior contemporary in the Indian team in the late 1990s and early this decade, IM Vijayan, said the 'Sikkimese Sniper' is God's gift to Indian football.
"Bhutia is God's gift to Indian football. As a player and leader, his contribution is immense. He is the best in my book and I think it will be a long time a player of his stature is found again," Vijayan said from Kerala.
"He is like my younger brother. I was senior to him but we don't have that senior-junior relationship. I think we played more than 20 international matches together. He is a great player and I am happy for him [for the milestone]," added the former FC Cochin and Mohun Bagan player, known as the 'Black Panther'.
Congratulating Bhutia on reaching the milestone, another former India captain PK Banerjee said, "By any standard, it's undoubtedly a great landmark to represent the country in any sport for 100 matches. I myself have played about 90 official and unofficial matches. I know what it takes to reach there.
"When I was associated with East Bengal during his early days, he used to be my ward. I still remember his hat-trick against Mohun Bagan in the 4-1 result. And when I was Tata Football Academy director, I had spotted him but unfortunately I could not bring him there."
Current Mohun Bagan coach Karim Bencherifa praised Bhutia for the commitment he has shown while playing for India.
"To play for 100 matches for your country is not an easy task. Nobody can ever question what he has given to the country in these 99 games so far. I congratulate him and wish him all the best on this landmark," said Bencherifa under whom Bhutia played in the last I-League season.
Former India coach Syed Nayeemuddin wished Bhutia "good luck" while ailing yesteryear star Sailen Manna said "it's a great milestone and my heartfelt wishes for him".