Formula One world champion Lewis Hamilton [ Images ] grabbed his first pole position of the season at the European Grand Prix [ Images ] on Saturday in an all-McLaren front row.
The 24-year-old, winner of the previous race in Hungary, took his 14th career pole ahead of Finnish team mate Heikki Kovalainen [ Images ] on a sizzling afternoon in Valencia with air temperatures of 31 degrees Celsius.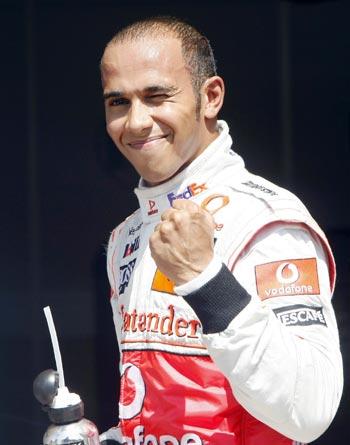 The Briton last occupied the front of the grid slot in China last October.
"It's great to know that we can continue with the momentum of the last race," said Hamilton, whose title hopes have long evaporated after starting the season with a woefully uncompetitive car.
McLaren [ Images ] have made huge progress since then and, making full use of the KERS energy recovery system that gives of burst of extra power at the push of a button, will be hard to beat on the street circuit.
Brawn GP's championship leader Jenson Button [ Images ] qualified fifth, with closest title rival Mark Webber [ Images ] back in ninth place for Red Bull but two other title contenders ahead of him.
BARRICHELLO THIRD
Brazilian Rubens Barrichello [ Images ], who is fourth overall for Brawn, qualified third and shared the second row with Red Bull's Sebastian Vettel [ Images ] whose car had suffered a dramatic engine failure in final practice.
Button is 18.5 points clear of Australian Webber and 23 clear of Vettel with seven races remaining. Barrichello is a further three behind.
"The McLarens were very quick and impossible to catch. But it's not too bad," said Button, who ran away with six of the first seven races but has not been seen on the podium in the past three.
Ferrari [ Images ] stand-in Luca Badoer [ Images ], returning after a 10-year absence for injured Brazilian Felipe Massa [ Images ], qualified a disappointing and distant last while team mate Kimi Raikkonen [ Images ] was sixth.
"I made a mistake on the last corner which cost me a lot of time, but it doesn't matter. This is all a test for me, this is the only way I can learn," the 38-year-old Italian told BBC radio.
"I am still enjoying it and tomorrow the race will be exciting. I will do my best to hopefully, maybe, overtake somebody."
Spain's local favourite Fernando Alonso [ Images ] qualified eighth for Renault [ Images ], with his new French team mate Romain Grosjean starting in 14th place.
Adrian Sutil [ Images ] lifted Force India's [ Images ] spirits in their quest for a first point, seizing 12th place in a Mercedes-powered car with a major upgrade for the weekend.