McLaren expect Fernando Alonso to switch from Renault to Ferrari next season and trigger a series of driver moves, team boss Martin Whitmarsh said on Friday.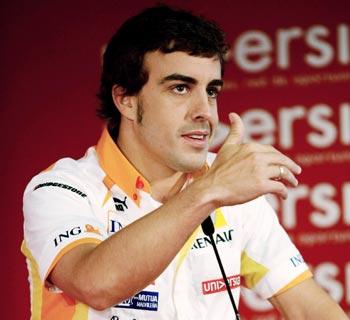 Asked about his own team's 2010 lineup, Whitmarsh made clear at the European Grand Prix that McLaren were prepared to bide their time.
"At the moment we have not had, nor are we in, conversations with any other drivers and we will see in the future. In reality, there are some changes probably with Fernando and Ferrari and that frees up the driver market," he told the BBC.
"Every year there are a number of pivotal points during the season which determine what is going to happen in the drivers' market.
"This year I think we all know that the Fernando-Ferrari move has a knock on and that ripples through the other teams," added Whitmarsh of his team's former driver.
"Clearly the BMW withdrawal will also have an impact.
"So I don't think we see a need at the moment to rush into it. I think we are concentrating on developing the car and making sure we are more competitive, which I think we will be this weekend."
OPEN SECRET
BMW announced last month they were pulling out of the sport at the end of the season, putting highly-rated Polish driver Robert Kubica and experienced German Nick Heidfeld on the market.
Kubica, who tested for Renault before being snapped up by BMW, would be a strong candidate to replace the Spaniard but could also interest McLaren.
Although Alonso's move is considered an open secret in the grand prix paddock with the Spaniard tipped to replace 2007 champion Kimi Raikkonen, Ferrari are adamant the Finn and injured Brazilian Felipe Massa have firm contracts for 2010.
Mercedes-powered McLaren also have world champion Lewis Hamilton signed up but the position of his Finnish team mate Heikki Kovalainen is uncertain, with the team recently asking him to raise his game.
Germany's Nico Rosberg, son of former champion Keke and impressing with Williams, is seen as a leading candidate to replace Kovalainen.
Alonso fastest in Valencia practice
Meanwhile, Alonso cheered up a sparse home crowd on Friday with the fastest time in practice for the European Grand Prix.
Renault's double world champion lapped the Mediterranean port's street circuit with a quickest time of one minute 39.404 seconds, despite an earlier collision with BMW-Sauber's Nick Heidfeld.
Brawn GP's Formula One championship leader Jenson Button was second fastest, 0.774 slower than the Spaniard, with Brazilian team mate Rubens Barrichello third.
Barrichello had set the pace in the morning with a time of 1:42.460.
In what would have been a nightmare for local organisers, Alonso had until Monday been in danger of missing Sunday's race after his team were handed a one-race ban in Hungary last month.
That suspension was overturned at an appeal hearing.