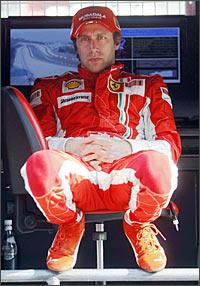 The old men of Formula One were first and last in opening European Grand Prix [ Images ] practice on Friday with Rubens Barrichello [ Images ] quickest while Ferrari [ Images ] stand-in Luca Badoer [ Images ] was a second slower than anyone else.
Badoer, the 38-year-old Italian preparing for his first start in a decade after Brazilian Felipe Massa [ Images ] was seriously injured in Hungary, was watched by retired seven-times champion Michael Schumacher [ Images ].
The veteran test driver completed 25 laps of the Valencia street circuit, clocking a best time of one minute 45.840 seconds.
That was 3.380 slower than Brawn GP's 37-year-old Brazilian Barrichello, the oldest man on the grid until Badoer came along, and more than two seconds slower than 10th-placed team mate Kimi Raikkonen [ Images ].
Schumacher, who retired in 2006 and is now 40 years old, would have taken Massa's place but the German had to abort his planned comeback due to a neck injury suffered in a bike crash earlier in the year.
Barrichello, chasing his first win since he was at Ferrari in 2004, was 0.176 faster than the McLarens of Heikki Kovalainen [ Images ] and world champion Lewis Hamilton [ Images ] as Formula One got to back to work after the extended summer break.
Kovalainen, who needs to raise his game if he is to stay with McLaren [ Images ] next year, was trying out a new front wing.
Championship leader Jenson Button [ Images ], Barrichello's team mate, was fourth fastest in a sign that his Mercedes-powered team have got to the bottom of the problems that have kept him off the podium for the past three races.
The Briton, who leads Red Bull's Australian Mark Webber [ Images ] by a comfortable 18.5 points after winning six of the first seven races of the year, was quickest for much of the session.
Red Bull's Sebastian Vettel [ Images ], with a new contract to the end of 2011 in his pocket, was fifth quickest on a hot morning in the Mediterranean port city.
France's [ Images ] Romain Grosjean made an assured debut after replacing Brazilian Nelson Piquet at Renault [ Images ], lapping 17th fastest.
Spanish rookie Jaime Alguersuari also put on a good show for the locals, although the grandstands looked very empty, with the 13th best time for Toro Rosso.