South African teenager Caster Semenya, whose rapid improvement has prompted officials to order a gender verification test, won the women's world 800 metres title with a crushing performance on Wednesday.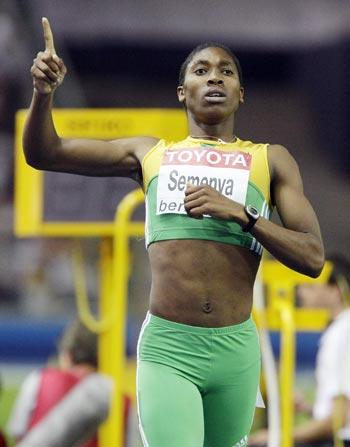 Powerfully-built but beautifully relaxed in motion, the 18-year-old clocked 1 minute, 55.45 seconds for the year's fastest time and a personal best by more than a second.
Kenyan defending champion and Olympic silver medallist Janeth Jepkosgei, who was tripped by Semenya and fell in the heats only to be reinstated, was more than 15 metres adrift for second in 1:57.90.
Fast-closing Jenny Meadows of Britain snatched third, three-hundredths of a second behind Jepkosgei in another personal best.
International Association of Athletics Federations (IAAF) general secretary Pierre Weiss said an investigation into Semenya's gender was underway in both South Africa and Berlin.
He said the IAAF had allowed her to compete because "today there is no proof and the benefit of doubt must always be in favour of the athlete".
"But one question is clear," Weiss said.
"If at the end of the investigation it is proven the athlete is not a female, we will withdraw the result of the competition today."
Weiss said because of Semenya's age, the IAAF had decided to keep her away from a news conference following her victory.
He added doctors consulted by the IAAF said it would take days or even weeks before a conclusion could be reached from her gender test.