Force India are making significant changes to their car in their quest for a first point in Formula One this weekend.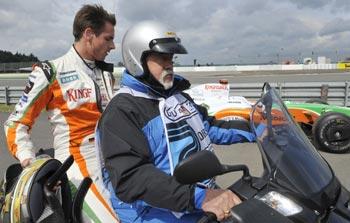 Team principal Vijay Mallya said aerodynamic developments for Sunday's European Grand Prix in Valencia included a new floor, bargeboard area and front wing.
"We should definitely be Q2 (the second stage of qualifying), maybe even the top of Q2 in Valencia and beyond," the Indian drinks and aviation tycoon said in a preview for the race in Spain.
"I'm quite optimistic as we're also working on more upgrades for the final races of the season so fingers crossed we should be able to maintain our momentum.
"There's more to come for Singapore as well in the latter part of the year so if we continue on our trajectory now we're looking quite good, on target with the goals we set at the start of the year."
Force India have the same Mercedes engines as championship leaders Brawn GP and McLaren, winners in Hungary last month with world champion Lewis Hamilton, but have struggled to get close to the points.
Italian Giancarlo Fisichella finished ninth in Monaco while Germany's Adrian Sutil qualified seventh for last month's German Grand Prix and ran as high as second before colliding with Ferrari's Kimi Raikkonen.
"Every upgrade we've introduced so far this year has really made a difference so I have a lot of confidence that this will move us forward as well," said Sutil.
"The car is getting better and better to drive and with another upgrade I hope we will really be in the midfield now and in the hunt for points."