World champion Valentino Rossi of Italy won the Czech MotoGP on Sunday for the second year in a row after his Yamaha team mate Jorge Lorenzo of Spain crashed out late in the race.
Spanish rider Dani Pedrosa took second, finishing nearly 12 seconds behind and Toni Elias of Spain was third on his Honda to round out the podium.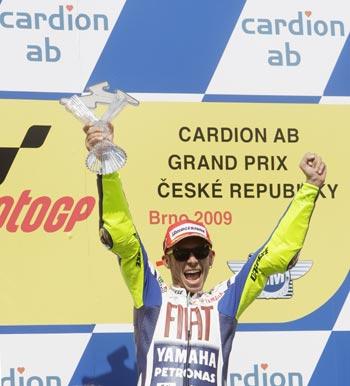 Rossi and Lorenzo finished one-two in qualifying, setting up an eagerly anticipated race between the two leading world title challengers on a warm clear day in front of around 138,000 spectators.
Rossi took an early lead with Lorenzo pushing him furiously until the Spaniard leaned too far into a turn and crashed out, leaving it to the Italian to easily cruise to victory on the 5.4-km course.
Rossi said a few adjustments made him more comfortable with his bike and allowed him to fend off Lorenzo, who was faster in morning practice. It was Rossi's 160th podium finish.
"From that moment on it was a lot more relaxed," Rossi said of his team mate's exit. "I enjoyed the track like a tourist in the last five laps."
The victory extended the Italian's overall title lead to 50 points over Lorenzo and put more pressure on third-placed Casey Stoner of Australia, who is out for the next three races while he recovers from a virus.
Rossi has 212 points, followed by Lorenzo on 162 and Stoner at 150.
Pedrosa now stands fourth with 135 points.
"Unfortunately, I could not be as fast as the Yamahas," the Spaniard said. "I tried at the beginning but I couldn't keep the pace."
In the 125cc class, Spain's Nicolas Terol picked up his first win of the season and Marco Simoncelli of Italy won the 250cc category.
The riders now enjoy a break before returning to action on Aug. 30 at the Indianapolis Grand Prix in the United States.