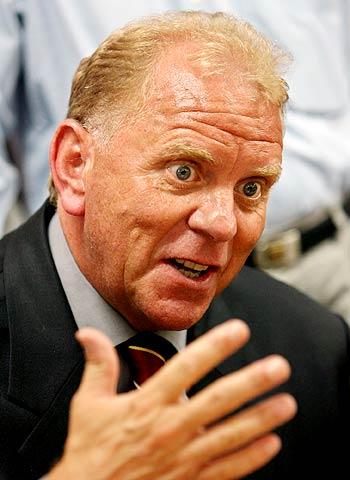 Ruling out injured footballer Sunil Chetri for the five-nation Nehru Cup tournament, starting in Delhi on August 19, India coach Bob Houghton said national players should not be risked in tournaments like the Santosh Trophy to protect them from possible injuries.
"Sunil Chetri is definitely out of the tournament. Tournaments like the Santosh Trophy should not involve these boys. They are already playing for the nation and the I-league. You don't see a Steven Gerrard playing for Liverpool and England for the whole year and then turn out for Lancashire," he said.
He said the administrators should pay close attention to injuries sustained by the players.
"Chetri's involvement in the Santosh Trophy was unnecessary. Though he played in just one match, it is just not professional.  [Playing football] That's their career. It is important for these players that they get their injuries properly diagnosed," Houghton added.
About the Nehru Cup, Houghton said that the other four teams in the fray -- Syria, Lebanon, Kyrgyzstan and Sri Lanka -- will be seeing India as the team to beat.
"Syria will of course start as the favourites by dint of their ranking. But it will be India -- as defending champions -- that the others will be looking as the team to beat," he said.
India lost a humdinger in the round-robin stage to Syria in the last edition before shutting it out in the final 1-0.
"The way the team's been playing in recent times is a very good indicator of how much we have moved on," he said.
On India's slide in FIFA's rankings [it is currently ranked 156], Houghton did not seem too concerned.
"FIFA rankings are based on the performances of a team over a year. We don't play enough games in a year. Whereas in Europe neighbouring countries are a two-hour ride away, the same is not the case with Asia. This Indian side is actually better than what the FIFA rankings show," he said.
If India could do well in the 2011 Asia Cup -- India qualified by winning the AFC Challenge Cup last year -- and enter the World Cup qualifiers as a seeded team, it would immensely benefit the team, he added.
"The next year-and-a-half is going to be very important for India. If we can perform well in the Asia Cup and become a seeded team for the World Cup qualifiers, then it would mean a first round bye and facing weaker teams, while now since we are unseeded we end up playing more matches and get drawn with tougher opponents," he said.
India meets Lebanon in the Nehru Cup opener on August 19.